Many people depend on their physicians to order the lab tests that they need. However, there are a variety of reasons that someone might want to order their own lab tests. They might want tests that their insurance won't cover, and they want to get these in the most affordable way. They might prefer to avoid the hassle and expense of having a doctor's visit simply to get the tests ordered. They might prefer to feel empowered and in charge of their own health care.
Whatever the reason, there are a few different options when it comes to ordering your own lab tests. One of the options is HealthLabs.com. What are the Health Lab reviews like? Is this a service that you can trust?
How does HealthLabs.com work?
HealthLabs allows you to order your own lab tests. You choose the tests that you want online. You will then visit one of their labs around the country to have your samples taken. Your results will be available online within a few days.
In general, you need orders from a doctor in order to get any type of lab testing. HealthLabs.com provides the necessary doctor's orders to get the testing that you've chosen. This means that you don't need an appointment at a doctor's office in order to get your tests ordered. This avoids both the hassle and the expense of a visit to a doctor.
How do you pay for HealthLabs testing?
HealthLabs.com doesn't take insurance. You will pay for the testing yourself. The advantage of this is that it provides complete privacy. When you use insurance to get a medical test, a document called an EOB (explanation of benefits) is automatically sent, allowing anyone else who shares your insurance plan to find out that you got tested. The results will also become a part of your medical record. 
By paying for your own testing, you can decide whether you want anyone else to know about the results of your test. If you want to show your test results to a medical professional and have them entered into your medical record, you can do so, but this will be your choice.
The prices for HealthLabs tests vary widely, based on the specific tests that you order. Popular tests may cost anywhere from $28 to $499. However, HealthLabs does offer a price guarantee. If you find a lower price for a test from any competitor, they will match that price and then discount it 10%. This means that you can be assured that you're getting the best possible price for any test when you order from HealthLabs.
Is Health Labs legit?
HealthLabs.com is partnered with several different CLIA-certified laboratories, including some of the largest medical laboratories in the country, such as Quest Diagnostics and LabCorp. CLIA is the government program that certifies medical laboratories, so CLIA certification indicates that government agencies believe that the laboratory is following best practices and offering reliable medical testing. 
When your doctor orders lab tests, these are the same labs that they would send you to. In other words, HealthLabs allows you to get exactly the same tests that your doctor would order, only you order them yourself.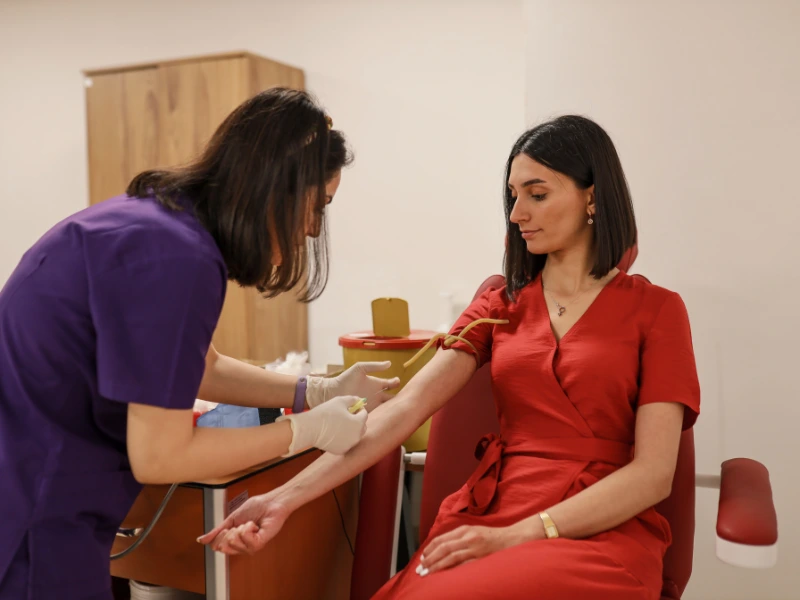 Unlike with some home testing services, HealthLabs.com doesn't require you to take your own sample. Rather than having the testing kit mailed to your home and taking your own samples, you'll visit a lab and have a professional take your samples. For some tests, particularly blood tests, some people prefer this method, because they prefer to avoid taking their own blood samples. Other people prefer the convenience of a home testing kit, so that they don't have to visit a lab in person. It's up to you which of these methods you prefer. If you prefer home testing, then you might want to choose a home testing service.
Are there good HealthLabs.com reviews?
Our team was impressed to see that HealthLabs.com has an excellent rating on TrustPilot, with 92% of customers leaving 5-star reviews. 98% of customers rated it 4 stars or above. This is a sign that HealthLabs.com is a company that you can trust.
What should you do with your HealthLabs results?
With any lab test, it's important to understand the information in context. If you get any abnormal results on a test you ordered from HealthLabs.com, then the company offers the opportunity to talk with a health education specialist to understand what the results might mean. They will help you decide whether you need an appointment with a doctor to talk over your results and get additional medical evaluation.
In some cases, you might need to take your test results to a doctor to talk them over. Your doctor will help you to understand what the results mean, and will examine you and discuss your symptoms and your medical history in order to determine a diagnosis. They might recommend additional testing, in order to get a more complete picture of your health.
In addition, you might need medical treatment to address issues that the testing reveals. HealthLabs.com is only a testing service, and doesn't offer any treatment. You will need to make an appointment with a doctor in order to get any prescription treatments that are indicated.
Sources
HealthLabs.com. https://www.healthlabs.com/. Accessed 28 Feb 2023.
HealthLabs.com Reviews. TrustPilot. https://www.trustpilot.com/review/healthlabs.com. Accessed 28 Feb 2023.
Clinical Laboratory Improvement Amendments (CLIA). Centers for Medicare and Medicaid Services. https://www.cms.gov/regulations-and-guidance/legislation/clia. Accessed 28 Feb 2023.