Today's digital age has brought new advancements to the way healthcare is provided, advancements such as telehealth, biomarker monitoring apps, as well as other gadgets which are giving the concept of healthcare a new horizon, for the better. STD testing is not the exception, with new advancements of home delivery, lower costs of blood tests as well as new technologies of collecting mechanisms, STD testing now is possible to be performed from the patient's home.
In the past, nearly any form of testing required you to travel to a clinic, identify yourself, and take the tests. Today, however, you can get tested anonymously at the comfort of your own home. This advancement has been achieved with new technologies, which permit at-home testing kits that incorporate all the components needed to carry out the test, including test swabs, tubes, a finger prick (in order to perform some blood tests), band-aides and even wipes to make sure all the process is hygienic and secure.
If any of this seems intimidating – don't worry. At-home STD testing kits are designed for anyone to use them and do not require any special training. They include simple and detailed instructions that anyone can follow, as well as professional customer support options if you find yourself unsure of how to proceed.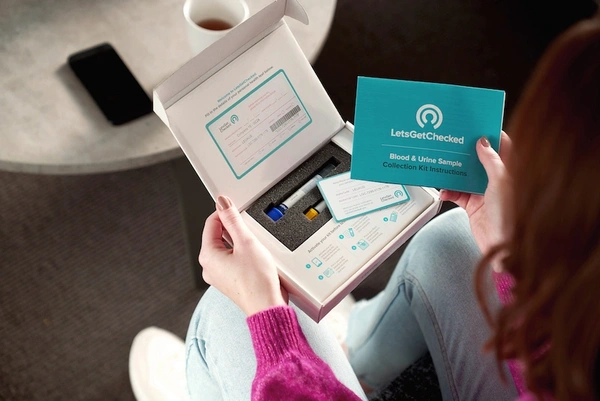 But how do at-home testing kits actually work? Are they simple enough for anyone to perform? Are the results reliable? Let's dive in and find out how it works, from start to finish!
STEP 1: Choose Your STD Testing Service
The first step is to choose the service you want to get tested with. While we can definitely recommend a few, we think it's best for you take a look at our STD Test reviews to understand what each particular service has to offer, and whether the service supports insurance-covered payment options or not, according to your preference.
STEP 2: Order Your Tests
Once you've chosen your preferred STD testing service, it's time to choose your tests. You'll notice that each testing service offers different tests at different price points, as well as test combinations at a discount. We recommend choosing one of these all-inclusive test packages for two reasons: first, some STDs can be asymptomatic, showing no symptoms at all, as well others can have similar symptoms, putting you at risk of choosing incorrectly. Secondly, in terms of pricing, opting for a package of tests can save you hundreds of dollars compared to individual testing.
You'll notice that some STD testing services give you the option of using automated tools to match the appropriate STD test for you, while others will offer a quick consultation with one of their doctors in order to do that. Some even offer both options, so stay aware of the possibilities available to you.
STEP 3: Perform Your Tests at Home
Performing at-home STD tests are a relatively simple affair that doesn't require any special training or prior experience. They include simple-to-follow instructions written in a way that's easy to understand for any person.
With an at-home STD testing kit, you'll find all the necessary components in the box delivered to your doorstep. This can include a variety of tubes and other sample storage solutions, specialized test swabs, wipes, band-aides and more delicate equipment used to extract blood, such as a finger prick.
STEP 4: Get the Results
Depending on the type of test and service, you can expect results in as little as 1-2 days after sending back the at-home testing kit. Once you receive the results and depending if they result positive or negative on a particular STD, you may need further consultation with a doctor.
Just keep in mind that at-home STD testing can't replace regular checkups with your doctor. These testing tools are meant to complement your medical care, but you will still need to visit your doctor regularly — especially if you're sexually active.
At this point, if the results are positive, please talk with a physician. You have the choice of going with your own doctor or consulting with one of the doctors available at your testing service. Regardless of your choice, it's important to understand that being aware of the fact you possess a particular STD is always a positive first step. After you have chosen a doctor, and received a consultation, please follow the doctor's medical guidelines in order to ensure that you'll have the information and tools to take care of the infection or disease acquired.
Get Your LetsGetChecked Discount for STD Test Today!
In the End, It's Pretty Simple!
If you're concerned that at-home testing is too difficult or unreliable, rest assured that it is not the case. These at-home testing kits are designed for simple use, include easy-to-follow instructions and will get you the results you need in as little as 1-2 days.
FAQ