The decision to get tested for STD (sexually transmitted disease) or STI (sexually transmitted infection) can be a difficult one. STDcheck.com seeks to erase the stigma and fear from STD testing by creating a fast and affordable testing service that bypasses insurance companies. With this same-day testing service you can get reliable results that are 100% confidential, meaning your results will not be shared with your doctor or your insurance company. Most STDs are treatable, especially when caught early. Early detection and avoiding any sexual activity with an infected person (or someone you aren't sure if possess an STD) are crucial to preventing the spread of disease. Testing centers can help facilitate early detection using cutting edge lab testing technology and an uncomplicated testing process that is easily accessible.
STDCheck.com Pros and Cons
Pros
Discreet STD testing – You do not even have to give your name if you do not want to
Same day STD testing available, results in 1 to 2 days
All STDCheck tests are FDA-approved, and all labs are CLIA-certified
Over 4,500 testing centers nationwide
No appointment is needed
Accepts PayPal, HSAs/FSAs, & Bitcoin
Consultations with licensed physicians after a positive result
The only online STD testing site to offer FDA-approved HIV RNA Early Detection Test
Cons
STDCheck does not accept health insurance
STDCheck does not have at-home testing kits
STDCheck does not test for mycoplasma genitalium and trichomoniasis
Not all participating labs give an equally private experience
No options if you live too far from a partner lab
$95 fee to receive a prescription from an STDcheck doctor
No testing for trichomoniasis
STD Testing Overview Using STDcheck.com
With STDcheck.com you can forgo the lengthy doctor's visit that takes weeks to set up, followed by an hour in the waiting room, filling out paperwork and having to answer uncomfortable questions about your sexual activity. Simply order the test or tests you want from the online portal, find a testing center near you, and you're well on your way.
Step 1. Order the tests you want to be performed online
The best time to get checked is today! Once you've had the choice to get tested you want to get on with things right away. With STDcheck.com you do not need proof of insurance, or a doctor's referral for these tests. You self-pay and there is a "pay later" feature that allows you to get started with no money down. Simply pay when you pick up your results. If needed, there is a handy online questionnaire that you can use to help you determine which set of tests are right for you. All tests are FDA approved.
Step 2. Find a testing center near you
There are over 4,500 CLIA-Certified labs across the US. They offer convenient hours and some locations are open on Saturdays to help working people find the time to get checked. Walk-ins are welcome, no appointment is needed. You can order your test and visit the testing center on the same day. There is no need to visit your primary care doctor first in order to get a referral, cutting down the time it takes to get tested dramatically.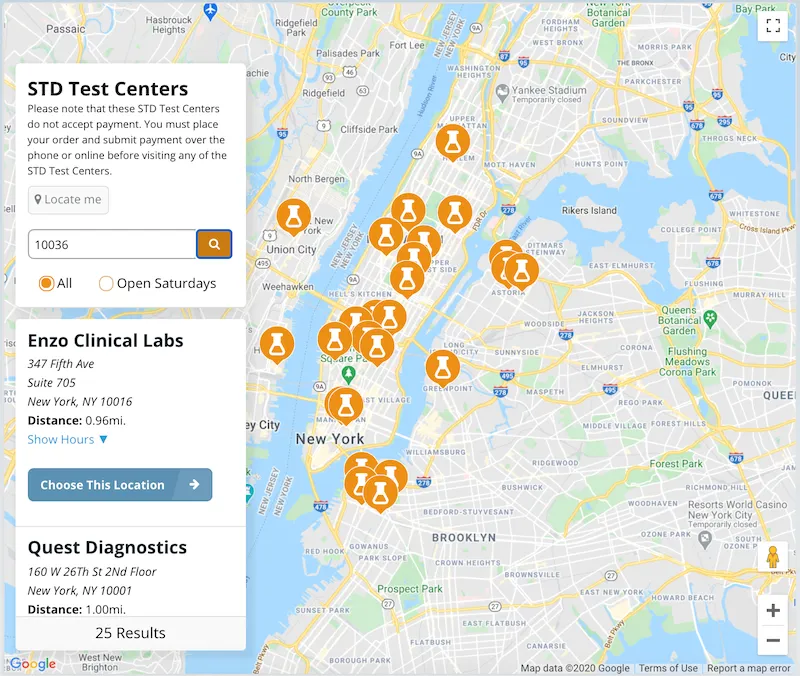 Step 3. Take your STD/STI test in about 5 minutes
When you walk-in to the testing center you won't be asked to fill out any paperwork and there will be no health history taken. You will simply leave your urine and blood samples with the technician. Testing doesn't get less complicated than this.
Step 4. Wait 1-2 days for your results
Some test results are available the same day, others take 1-2 days. You can check your results using your secure online account. The results are easy to read and include a very clear "positive" or "negative" for each test. Your test results are made available only to you. No copies are sent to your insurance company.
Which STD Tests Are Available With STDcheck.com?
Did you know that many sexually transmitted diseases and infections have hidden symptoms, making them very difficult to detect without lab tests? Also, if you have one STD you are at higher risk of having multiple STDs or STIs at once. This is why STDcheck.com offers a comprehensive 10 test panel that covers all of the most common STDs. If you are moderate to high risk or haven't been tested in a long time, the 10-panel set is the most recommended option for you. Besides the package deals, you can also opt for individual tests as well. If you order one of these tests now you can get a $15 off coupon.
Hepatitis A: $24
Hepatitis B: $24
Hepatitis C: $24
HIV Type 1 & 2: $49
Oral Herpes: $45
Genital Herpes: $45
Herpes 1 & 2 Package: $130
Chlamydia: $59
Gonorrhea: $59
Chlamydia + Gonorrhea Package: $99
Syphilis: $49
10 Panel Package: $139 (Best Value for Money)
10 Panel Package Plus HIV RNA Early Detection: $249
If you are unsure which tests are right for you, there is a brief confidential questionnaire available on the website when you order your test. The broad 10 test panel is the safest bet if you are concerned about multiple STDs or don't know where to start. This is a great baseline test for anyone who hasn't participated in sexual health testing in the past.
What Happens If A Test Is Positive?
In the event one or more tests comes back positive, you will receive a phone consultation with a physician. The physician can prescribe medications and antibiotics to treat some STDs/STIs. Other times they will refer you to a specialist. Your test results and all health information provided to STDcheck.com will always be strictly confidential and adhere to all HIPPA privacy rights. The tests are more than 99% accurate but some diseases do have an undetectable incubation testing so retesting is sometimes suggested. A positive result can be frightening but the trained staff at STDcheck.com will help you navigate to the best treatment options available.
The Benefits To STDcheck.com Sexual Health Testing
Knowing your status can keep you and your partners safe, give you peace of mind and empower you to take control of your sexual health. Many people still find talking about their sex life difficult though which is why online services and independent testing centers are rising in popularity. Some people would like their STD status kept private from employer paid insurance companies to keep their information from leaking. The fast results without any red tape also help you get it done fast, eliminating the need to take time off work and making testing accessible to more people. While you are working outside the world of insurance companies and primary care doctors, you are still assured of high quality FDA approved testing facilities with highly accurate results. Testing costs are kept to a minimum to help you afford to self-pay for checking up on your sexual health. Overall the experience will be quick and rewarding with your privacy safeguarded every step of the way.
STD Check Text Message: How The Scam Works
Watch out for a random STD check text message that may hit your mobile phone these days. Known as the STDCheck Notify scam, the text informs recipients that someone they were in contact with tested positive for an STD.
* The review is a recommendation and should not be considered as professional advice.
Read more about The Best STD Test Kits
Frequently Asked Questions
Is STDcheck.com legit or scam?
STDcheck.com is legit, and they offer reliable, discreet, and private online std testing with fast results. See STDcheck.com review
I got a text notification; what does it mean?
Through STDCheck.com a person that has tested positive for an STD can send an anonymous text or email to their sexual partners, alerting them for a need to get tested themselves. If you've received one of these text notifications, then a recent sexual partner has tested positive for an STD and they are doing the responsible thing by letting you know you need to be tested as well.
How does STDcheck.com test for STDs?
All of STDcheck.com STD tests are performed through urine and/or blood tests to ensure accuracy. They do not perform swab or saliva testing.
Does STDcheck.com offer at-home testing?
No. In order to ensure the greatest accuracy possible, STDcheck only offer lab testing.
What is the best option, home kits, walk in labs or over the counter options?
Find out more about the best sexual health testing option for you here.