Looking for the right at home STD test for you? Here's an analysis of the best tests on the market right now.
At home STD testing is among one the most convenient ways for consumers to accurately and discreetly screen their sexual health without the need to visit a clinical setting. The trickiest part of the process lies in finding out which at home STD test is the best for you.
So, what at home STD tests can you order from your home right now? Most importantly, what is the best at home STD test? Here's our top picks.
LetsGetChecked
myLAB Box
Everlywell
NURX
LetsGetChecked
LetsGetChecked offers the best at home STD testing on the market with the lowest price tag, the fastest turnaround time and the greatest level of support with a team of registered nurses who are on call 24/7 to guide you on your testing journey.
LetsGetChecked and FDA: We use FDA cleared and approved tests, and we are registered with the FDA for the manufacturing of our sample collection kits. In addition, our tests are validated and undertaken in our high complexity, CLIA-certified laboratory". So you can be sure that your test results are as accurate as those you would receive in a doctor's office or hospital.
There are a number of different testing bundles available via LetsGetChecked, across the variety of tests on offer, you could test for chlamydia, gonorrhea, syphilis, hepatitis B, hepatitis C, herpes simplex virus - 1 and - 2, HIV, HPV, mycoplasma, gardnerella, trichomoniasis and ureaplasma.
Simple tests start at $99*, a complete sexual health screening totals at $249* and tests for lesser known sexually transmitted diseases such as trichomoniasis and gardnerella. LetsGetChecked is the only at home STD test provider that provides complimentary and continuous support to its users after the test has been taken.
So, what at home STD tests do LetsGetChecked provide? 
Hepatitis B & C Test - $89*. (Tests for hepatitis B & C infection.)
Simple 2 - $99*. (Tests for chlamydia & gonorrhea.)
Basic 3 - $119*. (Tests for chlamydia, gonorrhea & trichomoniasis.)
Standard 5 - $149*. (Tests for chlamydia, gonorrhea, trichomoniasis, syphilis & HIV (1, 2, P24 antigen).
Complete 8 - $249*. (Tests for chlamydia, gonorrhea, trichomoniasis, syphilis, HIV (1, 2, P24 antigen), gardnerella, mycoplasma & ureaplasma 
*Use Our Special Coupon 'Get25' to Get Your Discount* 
Here's how the process works with LetsGetChecked:
Order your test online at www.letsgetchecked.com.
Receive your test in the mail within 48 hours.
Self-collect your sample, the sample required will depend on the test that you have opted for but may include blood, urine or a vaginal swab.
 Mail your test back using the self-addressed prepaid envelope.
Receive your results within 2-5 business days, as well as a treatment plan and ongoing support should you require it. Medication will be sent to you, at no extra cost should you test positive.
One of the most notable points that marks LetsGetChecked apart from competitors is the customer service that users can expect to receive. LetsGetChecked includes ongoing support and guidance from their team of registered nurses. The nursing team is available 24/7 to offer insights to those who need it.
Get Your LetsGetChecked Discount for STD Test Today!
myLAB Box
myLAB Box offers a variety of at home STD tests and is another great option. myLAB Box uses FDA approved laboratories and is CLIA certified.  myLAB Box comes in second place because it is more expensive than LetsGetChecked and results can take up to 8 days, in comparison to LetsGetChecked who generally take a maximum of 5 business days.
myLAB Box tests start from $79, with the most expensive tests sitting at $499. myLAB Box tests for chlamydia, gonorrhea, hepatitis B & C, herpes simplex virus - 1 and - 2, HPV, HIV, mycoplasma, syphilis and trichomoniasis.
myLAB Box also offers physician support, but this will only be provided to those who have received a positive result on their STD test, as opposed to those who simply would like some more follow up support and guidance.
One of the greatest advantages of myLAB Box is the fact that they offer a great variety of 18 different sexual health tests that are tailored to different demographics so there is sure to be something for everyone within their portfolio of tests.

Everlywell
Everlywell offers similar benefits to consumers such as discretion, accuracy, a fast turnaround and follow up care from a medical team.
Tests are priced between $69-$199, and customers can test for chlamydia, gonorrhea, hepatitis C, herpes simplex virus-1 and -2, HIV, syphilis, and trichomoniasis. LetsGetChecked wins on better value for money, however, Everlywell wins on its subscription plans which make it possible for customers to save money on monthly, quarterly or semi-annual STD testing.
Everlywell is available in all states excluding New York, New Jersey, Maryland and Rhode Island.
NURX
NURX, unlike LetsGetChecked and myLAB Box also specializes in prescriptions including birth control and migraine treatment. NURX STD tests can test for gonorrhea, chlamydia, trichomoniasis, HIV, hepatitis C and syphilis, with results available within 7 business days.
NURX pricing sits between $150 and $220, and the method of testing is similar to LetsGetChecked and MyLAB Box.
Customers…
Select their STD test of choice from the website.
Collect their sample from home.
Return their sample in the pre-addressed and prepaid envelope.
Receive feedback from the medical team within 7 business days.
Receive a prescription if it is needed by the customer.
Have unlimited access to the medical team if they test positive for an STD.
So, which is the best at home STD test?
At STDwatch, we think LetsGetChecked is the stand out winner on all criteria.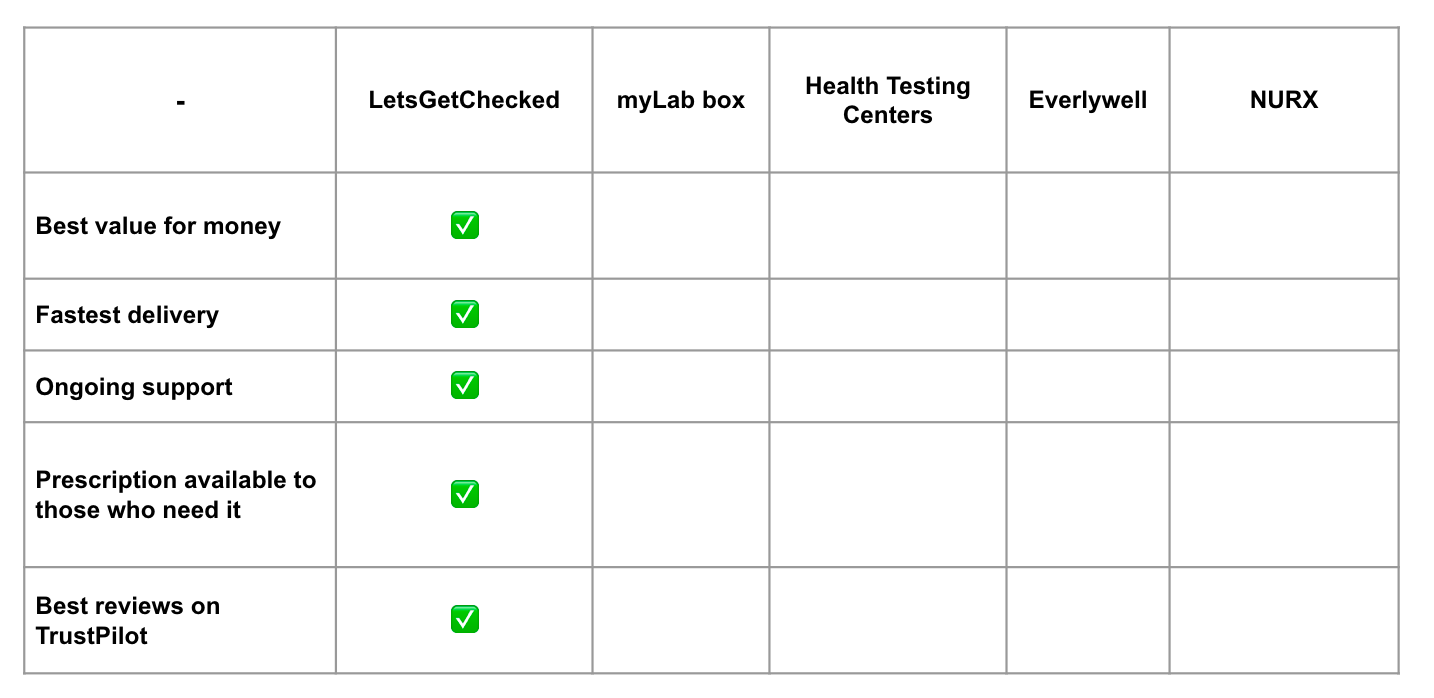 Get Tested For STD With LetsGetChecked Today!
Resources:
LetsGetChecked - www.letsgetchecked.com
MyLab Box - www.mylabbox.com
NURX- www.nurx.com
Everlywell- www.everlywell.com
Home kits vs walk in labs vs OTC sexual health testing | Here's everything you need to know - www.stdwatch.com