MyLab Box Review - Home Health Testing 
If you need an STD test or another type of medical test, you have a few options. You can visit your primary care doctor to discuss your concerns, and they can order lab tests for you. You'll then need to go to a laboratory site to have samples taken. For those who prefer more confidentiality regarding sensitive information like STD testing, there are also STD clinics available where you can go for an appointment.
For those who prefer more convenience as well as privacy, home testing services can be a good option. These allow you to take your samples in the privacy of your own home, while maintaining as much confidentiality as possible. STD testing is one common way that this type of service is used, but you can also get many other types of tests, including covid tests, tests for kidney and liver function, hormonal tests, and more.
If you're considering using a service like this, then you have a few different options to choose from. One of the options is a website called myLAB Box.
How Does myLAB Box Work?
With myLAB Box, you go onto their website and order the tests that you need. There are options to order a single test, or a batch of tests (for example, an STD panel that includes testing for chlamydia, gonorrhea, hepatitis C, HIV, herpes, syphilis, trichomoniasis, mycoplasma genitalium, and HPV). Reviews indicate that when you order multiple tests at the same time, they may sometimes come in separate boxes.
There are some reviews indicating that some people didn't feel that the myLAB Box instructions were clear enough. It can be a little tricky to get a blood sample on your own. We recommend ensuring that you're well-hydrated and that your hand is warm before you try taking your sample. Running your hands under warm water can be helpful.
How Do You Get myLAB Box Results?
With my LAB Box, results should come within 1-5 days after you send in your sample. It depends on the type of test that you've ordered; some take longer than others. 
As soon as your test is completed, your results will be available in your online account. The information is stored in a secure database, to protect your privacy. However, if you do want to share your results with your doctor, then you can download them to make this process easy.
If you have any positive test results, then you'll get a free consultation via telemedicine with a licensed medical provider to discuss your next steps. For certain conditions (such as many STDs), treatment is also included in the price of your test and a prescription can be sent to your pharmacy after a telemedicine appointment confirms that it's the right medicine for you. Of course, including treatment isn't always possible; for example, if your test shows that you have kidney failure, then you'll need to get ongoing treatment from a doctor.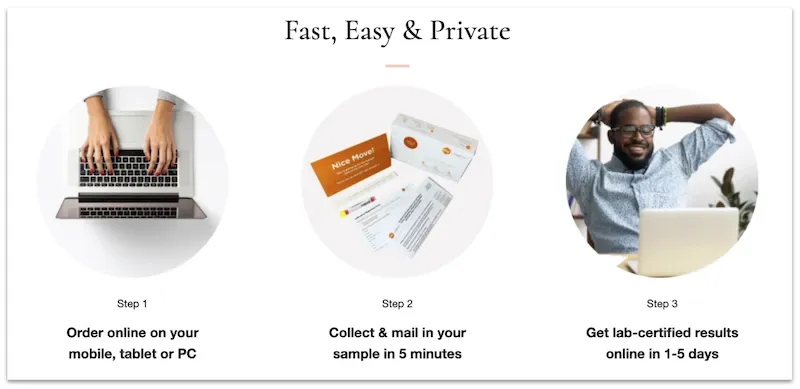 Is myLAB Box Accurate?
With this service, you do take the samples yourself. However, the process that actually happens in the medical laboratory during testing is exactly the same as if you'd gone to a facility to have your samples taken.
The samples from myLAB Box are sent to laboratories that are accredited by the US Department of Health & Human Services as well as the College of American Pathologists. These certifications indicate that these organizations believe that the test results generated at these laboratories are as accurate as possible with modern testing methods.
Of course, it's always possible to get an inaccurate test result, no matter how your sample was taken. However, the test results offered by myLAB Box are as accurate as those where the sample was taken in-person in a laboratory.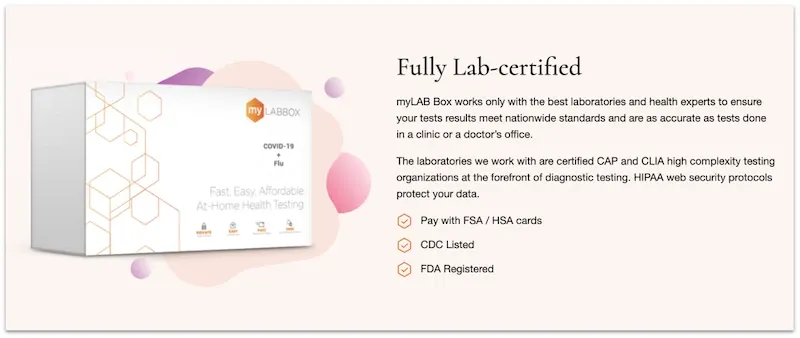 What Are myLAB Box Reviews Like?
When we looked on Trustpilot recently, we were surprised to find that myLAB Box has only a 2.9 star average rating from customers. However, upon looking into it further, this seems to have primarily been driven by a group of recent negative reviews. There was a problem at one of the laboratories that myLAB Box contracts with, and some people received incomplete herpes test results. Although this is very unfortunate, it's an issue that could happen with any provider that contracted with this company, including labs that your doctor could have sent you to.
There have also been occasional issues with shipping delays. Some reviews indicate that tests arrived a few days later than expected for some people. It's difficult to say whether this is related to myLAB Box itself or to the postal service, which has intermittently had delays over the past two years due to the covid pandemic.
It should be noted that there are also many reviews stating customers' positive experiences with myLAB Box. We will be watching the reviews in the future to ensure that the company is able to provide positive experiences to a majority of its customers. If things change, we will let you know.
What Are The myLAB Box STD Testing Prices?
One advantage of myLAB Box is that they offer a very comprehensive STD screening panel with 14 different tests in it. There's also a panel with eight tests, and you can order panels with only a few tests or even a single test.
Prices for panels for STD testing on myLAB Box are currently:
Individual tests for a variety of STDs can also be ordered, and cost $59 to $99.
There are also other types of tests available, including:
Wellness tests: $74 to $199
Hormonal panels: $199 to $259
Fertility testing: $49 to $149
Toxicology: $49 to $199
Covid test: $29 to $99
Overall, the myLAB Box prices are similar to or slightly less than those of LetsGetChecked, which also offers home testing services.
Does myLAB Box Accept Insurance?
This company doesn't accept medical insurance to pay for testing. Although this may create a financial barrier for some patients, it also helps to protect patients' privacy. With any test that's paid for by insurance, the fact that the person was tested will become available to the insurance company and its partners, and sometimes results will also be reported. In addition, for those who share insurance with family, the fact that the test was taken may be reported on a report called an Explanation Of Benefits (EOB), which is generally sent when a person uses medical insurance. The results may even be shared in a way that allows other family members to access them. For many people, it's therefore preferable not to use their insurance for things like STD testing that may be sensitive, in order to ensure that their privacy is maintained.
Although myLAB Box doesn't accept insurance, you can pay for the tests using funds from a flexible spending account (FSA). 
How Does myLAB Box Compare With Other Testing Options?
STDwatch has chosen high-quality home testing services to offer to our valued community. These are all services that we would personally use, or recommend to a friend. However, there are some differences between the different services available. Here's a handy chart to help you compare the various services to each other: 

Is myLAB Box Legit?
Yes, myLAB Box is a legitimate medical testing company. Samples are tested at accredited medical laboratories. You'll be connected with a medical professional to discuss any concerning results, and can also get treatment for certain conditions through the service. Using myLAB Box can be a way of getting the testing you need to protect your health, while preserving both your privacy and your convenience.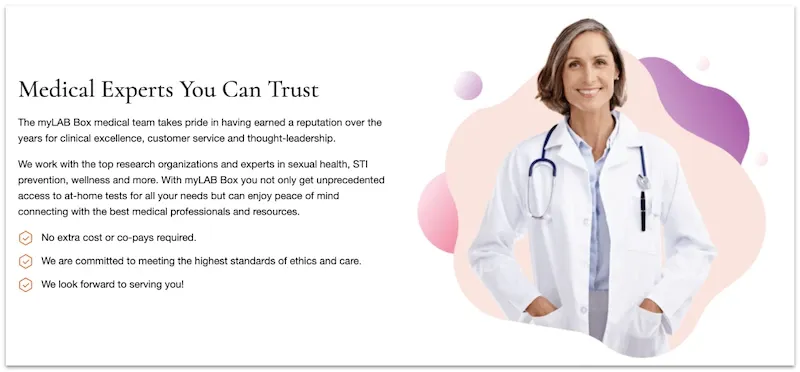 Sources
myLAB Box. https://www.mylabbox.com/. Accessed 27 June 2022.
LetsGetChecked. https://www.letsgetchecked.com/. Accessed 27 June 2022.
PrioritySTD. https://www.prioritystdtesting.com/. Accessed 27 June 2022.
Clinical Laboratory Improvement Amendments (CLIA). Food and Drug Administration. https://www.fda.gov/medical-devices/ivd-regulatory-assistance/clinical-laboratory-improvement-amendments-clia. Accessed 27 June 2022.
CAP 15189 Accredited Laboratories. College of American Pathologists. https://www.cap.org/laboratory-improvement/accreditation/cap-15189-accreditation-program/cap-15189-accredited-laboratories. Accessed 27 June 2022.
myLAB Box reviews. Trustpilot. https://www.trustpilot.com/review/mylabbox.com. Accessed 27 June 2022.