How soon after unprotected sex can I test for STDs is a very common question and with good reason. Incubation periods for STDs vary, and if you test too soon, you could receive a false negative. This is why it is so important to know how soon after having unprotected sex you should get screen for sexually transmitted disease.
How soon after unprotected sex should you get tested?
Gonorrhea: 5 days -2 weeks
Chlamydia: 1–2 weeks
Syphilis: 3 weeks
Herpes virus: 1-4 months
HPV: 3 weeks - 2 months
Hepatitis: 3–6 weeks for hepatitis B. 2–6 weeks for hepatitis C
Trichomoniasis: 1-4 weeks
HIV
10–33 days for a nucleic acid test.
18–45 days for an antigen/antibody test.
23–90 days for an antibody test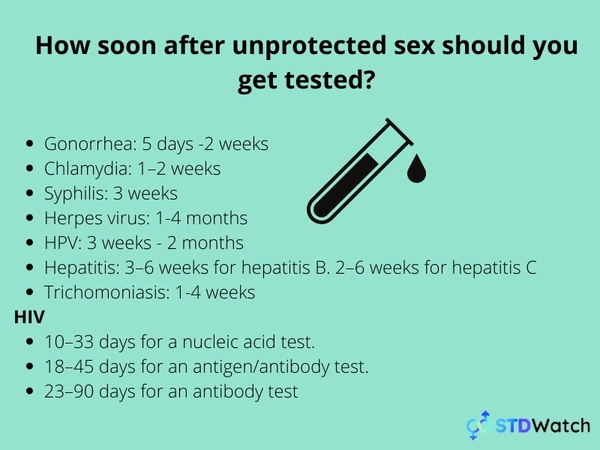 If you are experiencing the symptoms of a sexually transmitted disease, make sure that you go to a doctor and get tested as soon as possible. It is also now possible to screen for sexually transmitted diseases from the comfort of home.
At home STD testing is among one the fastest and most convenient ways to accurately and discreetly screen their sexual health without the need to visit a clinical setting. The trickiest part of the process lies in finding out which at home STD test is the best for you.
So, what at home STD tests can you order from your home right now? Most importantly, what is the best at home STD test? Here's our top picks.
STDcheck.com​​​​​​
Read: What is the best at-home STD test?
How do I know if I should get tested?
Here are some instances that would help you figure if you need a screening test:
You're sexually active. Everyone who is sexually active (even if you've only ever had one partner and always use protection) should be screened at some point in your life.
You're having unprotected sex. If you've had or want to start having sex (vaginal, anal, or oral) with a new partner, it's a good idea to get tested.
You're involved in riskier relationships. If your partner has a chronic or long-term infection.
You engage in high-risk sexual behavior. High-risk behavior includes intimate contact with a sex worker, IV drug user, men who have sex with men, and having multiple partners, or anonymous partners. In these cases, you're at higher risk and should get tested (remember, that includes oral and anal sex, too!)
You've had an infection in the past. You may be more likely to have an infection again, so it's a good idea to be screened, about 3 months after you've been treated, if you are sexually active.
You're a baby boomer. Because many baby boomers (people born between 1945 and 1965) may have contracted hepatitis C before we even knew the virus existed and could test for it, and because they may have no symptoms of infection, we recommend all baby boomers be tested once for hepatitis C.
You have symptoms. This is a good time to have a discussion with your healthcare provider. Your symptoms and history will allow you to make the best choice about the most informative tests to look for possible causes of your symptoms.
Get Your LetsGetChecked Discount for STD Test Today!
What are the most common symptoms of an STD?
Some of the most common STDs symptoms in females may include:
Itchiness
Lumps and bumps
Changes in vaginal discharge
Pain in the affected area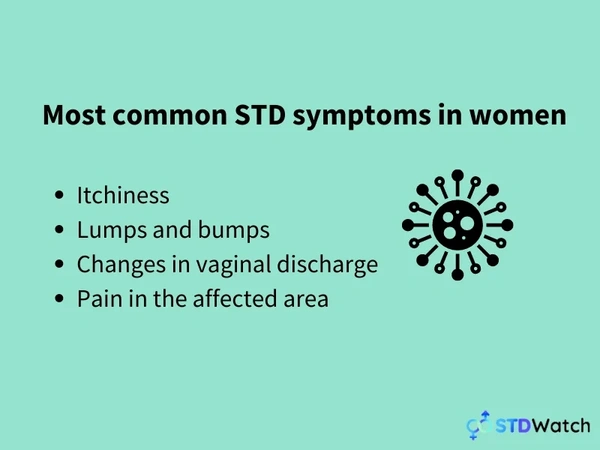 Some of the most common STD symptoms in males may include:
Unusual discharge from the penis
Lumps or bumps on the genital area
Sores or ulcers on the genital area
Burning or pain during urination
Pain in the abdomen
Pain during sex
Pain in the testicles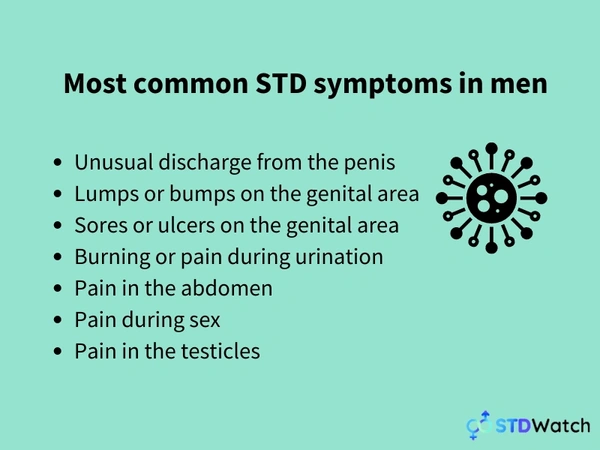 Read: Home STD Testing: 6 Best At-Home STD Test Kits in 2023