Priority STD Testing is a Missouri based national provider of STD testing. Priority STD testing offers testing options across 4,000 locations in the United States. With a simple three-step process, customers can access swift, non-invasive STD testing that takes half an hour or less, with results available in 24-72 hours. 
In this review of Priority STD Testing, we will not only be performing an in-depth analysis of the company's lab test services, but we'll also review the pros and cons, costs and what to expect from testing with Priority STD testing. 

Pros & Cons of Priority STD Testing 
Pros 
All tests are FDA approved and are analyzed in CLIA accredited laboratories
All data is processed through a HIPAA compliant system ensuring that customer confidentiality is protected
Treatment options for certain sexually transmitted diseases are provided 
Care counselors on hand to offer advice and guidance at every step of the way
4,000 private testing locations
STD test results are available within 24-72 hours
There is no identifying information on bank statements 
Results are processed through a secure portal or phone call
No need to book an appointment and same day testing 
If customers test positive for HIV, syphilis, hepatitis B or C, confirmatory tests are free of charge
Cons 
Customers will need to visit a testing centre, there isn't an option to take the test from home 
Priority STD Testing does not accept health insurance as a payment option
Some of the tests included in the STD panels are not available as individual tests

A Quick Breakdown of How Priority STD Testing Works
1. Order your STD testing 
Customers simply enter their ZIP code to find the nearest local testing center and then select the test(s) needed from the online collection. Priority STD Testing offer a variety of individual testing options as well as discounted panel test options. The panel test options give customers the choice of testing for multiple sexually transmitted infections all in one visit. Once customers make their selection(s), they are directed to our secure checkout site where you can reserve your lab order.
2. Visit a testing center 
Priority STD Testing has a network of 4,000 private testing centers across the United States. All testing centers are in compliance with all FDA regulations and testing is administered in CLIA certified laboratories, so customers can rest assured that testing is conducted professionally and accurately. 
3. Get results & treatment
Customers receive their results typically in 24-72 hours after collection. Customers can check their results online using a secure patient login unique to your order, or by calling one of the care counselors. Priority STD Testing also provide treatment options for patients who test positive for chlamydia, gonorrhea, or trichomoniasis. A prescription can be called into the pharmacy of your choice for $65 after a quick phone consultation with one of the partner physicians. 
Get tested with Priority STD Testing
Privacy & Accuracy of Priority STD Testing 
Privacy
Priority STD Testing ensure that your personal information, including your contact information, order history, and credit card information is kept secure and encrypted using SSL and the healthcare standard HL7 interface when checking out.
No information is sent to your home via mail, and your healthcare provider will not be notified with your results without your prior consent.
All test orders and results are 100% confidential throughout the entire testing process.
Accuracy 
All of the Priority STD Testing test options are FDA approved. All tests are performed in CLIA certified labs to ensure the highest level of accuracy.
When it comes to accuracy, Priority STD Testing state that "Some STDs require that you wait a period of time after sexual contact before getting tested. Each disease has a different latency period, so understanding when to test is important. If you have questions, our care counselors are happy to walk you through the process, start to finish."
Priority STD Testing  Methods
Customers simply order their test online or over the phone.
After ordering a test online, customers then access same day testing by attending one out of the 4,000 health test centers. Customers can easily locate a health test center near you by simply entering your zipcode here.
The testing process is quick and painless . Customers are required to provide a urine sample or blood sample. Most tests take just a few minutes, and customers are generally in and out of the testing center within half an hour. 
Customer's samples are processed on-site which means that results are available within 24-72 hours. 
Customers can receive their results via a secure login portal or via a phone call with a care counsellor. 
If a customer requires treatment, this can be provided at an additional cost of $65 for chlamydia, gonorrhea and trichomoniasis. 
Priority STD Testing Payment Options
Priority STD Testing accepts a variety of payment options including major credit cards, debit cards, health savings plans and even prepaid gift cards issued by a major credit card company such as Visa or MasterCard.
When making the purchase, customers can rest assured that the purchase will have a certain level of anonymity attached. Billing will not be sent to customer's home address and charges will appear on statements as "SFHT", meaning that confidentiality is ensured throughout the process. 
What Types of Tests Does Priority STD Testing Offer?
Priority STD Testing offer tests for a range of sexually transmitted diseases including: 
Chlamydia
Gonorrhea
Hepatitis B 
Hepatitis C 
Herpes I/II
HIV 1/2
Syphilis
Trichomoniasis 
HIV/RNA Early Detection 
Herpes Early Detection 
Customers can either choose a test bundle or individual testing options depending on their specific needs.  
The Twin Panel and 10-Panel Testing options offer a cost-effective and accessible means of testing for multiple sexually transmitted diseases in one sitting. The individual tests ensure that customers can access specific tests at an affordable cost.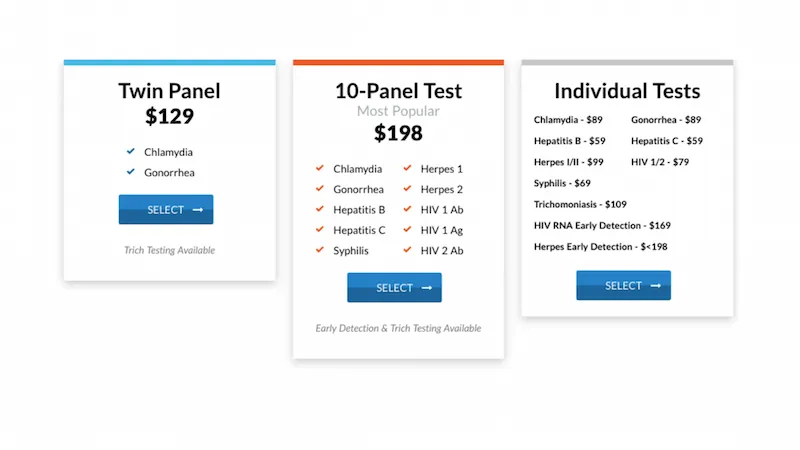 The bundles on offer include: 
Twin Panel - $129. STD Test to detect the two most common infections, chlamydia & gonorrhea. 
10-Panel Test - $198. STD Test to detect infections including chlamydia, gonorrhea, hepatitis B, hepatitis C, syphilis, herpes 1, herpes 2, HIV 1 Ab, HIV 1 Ag and HIV 2 Ab. 
Individual Tests include: 
Chlamydia - $89. STD test to test for chlamydia. 
Gonorrhea - $89. STD test to test for gonorrhea.
Hepatitis B - $59. STD test to test for hepatitis B. 
Hepatitis C - $59. STD test to test for hepatitis C.
Herpes I/II - $99. STD test to test for herpes I/II.
HIV 1/2 - $79. STD test to test for HIV 1/2.
Syphilis - $69. STD test to test for syphilis.
Trichomoniasis - $109. STD test to test for trichomoniasis. 
HIV RNA Detection - $169. STD test to test for HIV RNA.
Herpes Early Detection - $<198. STD test to test for  herpes.  
How to get started with priority STD testing 
1. Visit Priority STD Testing online and order your test. 
2. Visit one of the health testing centers for your sample collection. You do not need to make an appointment ahead of time. 
3. Receive your results within 24-72 hours. 

How easy is to get an appointment with Priority STD Testing?
It's so easy to get an appointment with Priority STD Testing, that you don't even have to make an appointment! Same day walk-ins are accepted, so you can get the answers you need within three days. 
Getting fast, accurate and confidential results from Priority STD Testing
Customers are the only people who will have access to their results. Results are made available through a secure login unique to the order.
Results are updated 24 hours a day, 7 days a week and typically will only take 24-72 hours to process. Customers who would prefer a call can simply contact a care counselor for a complete consultation of their test results. 
Nothing will ever be mailed to a customer's home or healthcare provider. Priority STD Testing is in compliance with all state and federal regulations governing the reporting of positive test results to ensure that customers are not contacted in the event of a reactive test. Your protected health information (PHI) is protected by HIPAA to ensure that all information is kept private.
Customers will receive an email notification when the final results are available, however partial results can be accessed by logging in to the patient portal included in the order confirmation email. Priority STD Testing do not store any personal health information on the public website.
A summary of Priority STD Testing benefits
Same day testing 
Customers can access testing on the same day of ordering their test.
Discreet locations 
All locations are are discreet, as a variety of lab testing takes place at each lab, no other customers or people outside of the centers will know what you are there for. 
Treatment options
Priority STD Testing offer treatment options for chlamydia, gonorrhea and trichomoniasis. 
Completely confidential 
Each and ever step of the process is strictly confidential and private.
Fast and accurate results
All results are available to customers within 72 hours. 
Comprehensive tests 
Priority STD Testing offers a variety of comprehensive tests including HIV, herpes 1&2, chlamydia, gonorrhea, syphilis, hepatitis B, hepatitis C, and trichomoniasis. 
Useful links 
Why should you choose Priority STD Testing? - https://www.prioritystdtesting.com/why-choose-us/
Find a lab  - https://www.prioritystdtesting.com/find-a-lab/
Tests & pricing - https://www.prioritystdtesting.com/testing-options/
Frequently asked questions 
Is Priority STD Testing FDA approved?
Yes, all STD tests are FDA approved. 
Are tests ordered by a physician?
Yes. Priority STD Testing and PWNHealth are partnered to provide lab orders authorized by physicians in 48 states.  Customer information and test requests will be evaluated and if appropriate, approved by a physician. This process takes place immediately when the order is placed, so customers will never have to wait to get tested. Patients wishing to be tested in NJ or RI must call and speak with a care counselor.
Does Priority STD Testing accept health insurance?
No. Priority STD Testing are able to provide all of the necessary information to file a self-claim. Priority STD Testing utilize Quest Diagnostics which is the largest lab network in the nation, therefore most healthcare providers will offer some form of reimbursement. STD Priority Testing will never directly bill customer's insurance to ensure results are completely private and kept off customer's permanent health record.
Are appointments necessary once ordering the test?
No appointments are required at the collection facility after a customer has ordered their test. The lab order is valid for 90 days and can be used immediately once the order has been placed. Typically the entire visit will take no more than 15-30 minutes.