It's common for people to think of STDs as a young person's issue. It's true that around half of all new STD infections occur in people ages 15 to 24. However, it's a mistake to think that senior citizens don't have to worry about getting an STD. 
What's important to know about the elderly and STDs? What has been happening to STD rates in this population in recent years?
Senior Citizen STD Statistics
Data from the Centers for Disease Control and Prevention show that rates of several STDs, including gonorrhea, chlamydia, and syphilis, have actually been rising sharply in recent years in people ages 55 and older. As an example, here is the data for gonorrhea in people ages 55+ over the past twenty years.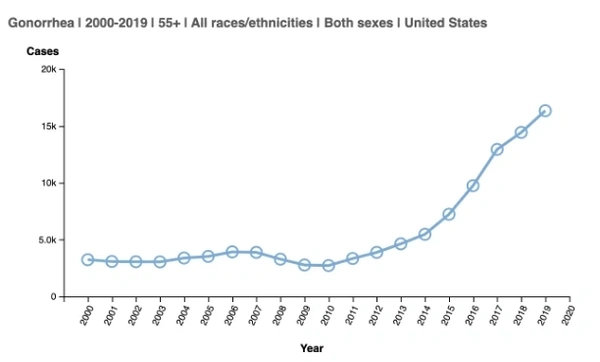 Get Your LetsGetChecked Discount for STD Test Today!
While younger people still account for the majority of cases, these sharp increases show that increased awareness of sexual health in seniors is crucial.
What are the risk factors for STD in older adults?
There are likely a variety of different factors that can put an older person at risk for STDs. One factor is that they no longer have to worry about pregnancy. Because of this, when older people have sex, they're less likely to use a condom. 
Another factor is the availability of sexual aids for elderly or older people. For example, pharmaceutical treatment of erectile dysfunction is widely available. This allows for senior citizen sexual activity that may otherwise be more difficult. 
While there are certainly some older adults who are married, it's also common for people to become widowed in this age group. This can make them more likely to seek new sexual partners.
Another huge factor is that many older people mistakenly believe that they no longer need to worry about STDs. Not only does this often mean that they don't practice safe sex, but they may also fail to get tested for STDs. Many STDs don't cause any symptoms in many of those infected, and if seniors believe that they don't need to worry about STDs, then they may not bother with getting tested. 
STD tests, either in a clinic or through a home STD testing service, are a good idea for any sexually active older adult who is not in a long-term monogamous relationship (such as marriage). This allows for seniors to receive appropriate treatment of any STDs.
Retirement home STD rates
Seniors who enter retirement homes don't stop having sex. In fact, sex among residents in assisted living facilities is commonplace. This means that it's important to consider the possibility of STDs in nursing homes. Statistics show that rates of STDs are continuing to rise among all older adults, including those who live in assisted living.
Besides the factors mentioned above, another possible contributing factor for residents of assisted living is dementia, or memory impairment. Around half of all residents of long-term care facilities have some form of dementia. One of the symptoms of dementia is disinhibition, which can lead to increases in sexual activity. This can put residents at risk for getting STDs. 
Buy LetsGetChecked At-Home STD Test Today!
Sources
Alzheimer Disease. National Center for Health Statistics. https://www.cdc.gov/nchs/fastats/alzheimers.htm. Accessed 9 May 2022.
AtlasPlus STD Statistics, age 55+. Centers for Disease Control and Prevention. https://gis.cdc.gov/grasp/nchhstpatlas/charts.html. Accessed 9 May 2022.
Johnson BK. Sexually transmitted infections and older adults. J Gerontol Nurs 2013 Nov;39(11):53-60. doi: 10.3928/00989134-20130918-01.
Sex in the Nursing Home. American Association of Retired Persons. https://www.aarp.org/caregiving/basics/info-2017/sex-in-assisted-living-facilities.html. Accessed 9 May 2022.
Smith ML, Bergeron CD, et al. Sexually Transmitted Infection Knowledge among Older Adults: Psychometrics and Test–Retest Reliability. Int J Environ Res Public Health. 2020 Apr;17(7):2462. doi: 10.3390/ijerph17072462