Diabetes is a condition in which the body is unable to manage sugar properly. This means that the person will have higher levels of sugar in their blood. Diabetes is associated with a huge variety of health problems, and can cause blindness, loss of limbs, and even death.
While there may be some symptoms of diabetes in the early stages, many people with diabetes are not aware that they have the condition. It's very important to treat diabetes properly in order to avoid long-term complications. The sooner you start to treat the disease, the more likely you can avoid the serious health risks that it can create.
How can you know whether you have diabetes? Can you check for diabetes at home? What kind of home test should you order?
Options for testing for diabetes
There are a few different ways to test for diabetes. People with diabetes have higher blood sugar levels, so one way is to check a person's blood sugar level at a given point in time. Blood sugar always rises after you eat, so this type of test is generally only useful if it's done when you're fasting. A single measurement of blood sugar, taken when you haven't eaten for at least 8 to 12 hours, is known as a fasting blood glucose.
Even in a healthy person, blood sugar levels vary widely over the course of the day. Besides when you last ate, they can be affected by things like whether you've exercised, infections, the menstrual cycle, and stress. It can be difficult to interpret the results of a single fasting glucose measurement. One option is to do several different fasting blood glucose tests and see if there's a pattern of elevated results.
There's also another test that can be used to look at blood sugar levels. This is known as hemoglobin A1c. It can also be called HbA1c, or just A1C. This test checks your average blood sugar levels over the past three months. Hemoglobin is a protein in your blood, and hemoglobin A1c is this protein with sugar attached to it. Higher A1C numbers mean that you've had higher blood sugar levels more often. Because the hemoglobin in your body gets replaced about every three months, the A1C test is looking at your average blood sugar levels over that period of time.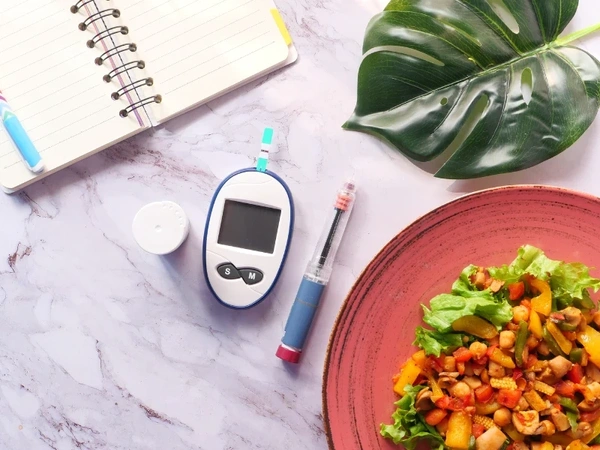 It may also be useful to check how well your body responds to sugar that you eat. In a person with diabetes, the body may be unable to respond normally, leading to abnormally high increases in blood sugar. A glucose tolerance test can be used to check your body's response to sugar. The test measures your blood sugar (and sometimes also insulin levels) while you're fasting. You then drink a sugary beverage (provided by the lab), and another blood sugar (and maybe insulin) measurement is taken two hours later.
How to check if you have diabetes at home
If you're worried that you might have diabetes, then you may want to do testing for diabetes at home. The most commonly used screening test by doctors is the fasting blood glucose test, but A1C can also be used for screening for diabetes. For self testing for diabetes, A1C is the most commonly used home testing method. If you want to be more thorough, then you might want to do a glucose tolerance test. You can order it yourself at home, but you'll need to go to a lab to do the test.
You can also visit your doctor to get the lab test ordered, and then visit a lab for your blood draw. Home diabetes testing allows you to avoid the hassle and expense of a doctor visit. Of course, if your home test shows that you do have diabetes, then you'll still need to visit a doctor to get the right treatment.
In general, most home test services don't take insurance. This is largely to maintain people's privacy. However, you may be able to use funds from a health savings account (HSA) or flexible spending account (FSA) to pay for your home tests.
How to monitor your diabetes at home
If you already know that you have diabetes, then it's important to keep an eye on your health to ensure that you're managing it as well as possible. There are a few different tests that people with diabetes may benefit from.
Urinary albumin:creatinine ratio. This test is used to look for signs of kidney damage, which is a common complication of diabetes.
Insulin. Insulin is a hormone that the body produces when blood sugar is high. In many people with diabetes, the production of this hormone is reduced. Tests can be used to measure insulin levels.
C-peptide. An insulin test will pick up insulin that's been injected, as well as insulin that your body made on its own. To tell the difference, a test called C-peptide can be used. This is a protein that's created when the body makes its own insulin. Higher levels of C-peptide indicate that your body is producing insulin.
Comparing home diabetes test options
Here's a helpful chart comparing the various options for diabetes testing at home. These are the services that we most commonly recommend. We also usually recommend another service called PrioritySTD, but they only offer STD testing, not wellness tests like diabetes testing.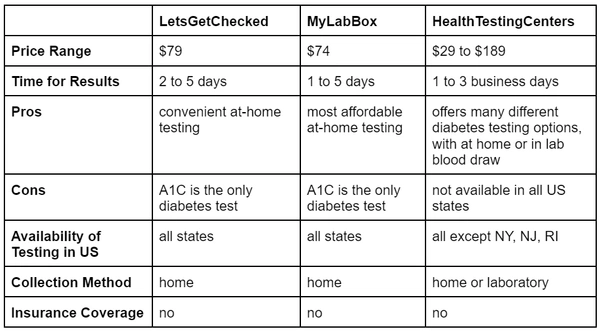 Sources
LetsGetChecked. https://www.letsgetchecked.com/. Accessed 13 Sep 2022.
myLAB Box. https://www.mylabbox.com/. Accessed 13 Sep 2022.
PrioritySTD. https://www.prioritystdtesting.com/. Accessed 13 Sep 2022.
Health Testing Centers. https://www.healthtestingcenters.com/. Accessed 13 Sep 2022.
All About Your A1C. Centers for Disease Control and Prevention. https://www.cdc.gov/diabetes/managing/managing-blood-sugar/a1c.html. Accessed 13 Sep 2022.
Fasting Blood Sugar Test. Cleveland Clinic. https://my.clevelandclinic.org/health/diagnostics/21952-fasting-blood-sugar. Accessed 13 Sep 2022.
Insulin C-peptide test. University of California San Francisco Health. https://www.ucsfhealth.org/medical-tests/insulin-c-peptide-test. Accessed 13 Sep 2022.