Vitamin D is crucial for human health. It's known to be important in a variety of functions throughout the body. Studies have consistently shown that around 40% of adults in the US have a deficiency of vitamin D.
How can you know whether you're getting enough vitamin D? Can you do an at home test for vitamin deficiency? Where can you find vitamin D home test kits? Is there a vitamin D rapid test option?
What happens if you don't get enough vitamin D?
Vitamin D is important for a number of reasons. Some of its important functions include:
Maintaining adequate bone density and bone mass
Regulating muscle contractions
Controlling inflammation and maintaining healthy immune system function
Maintaining healthy blood sugar levels
Preventing excessive cell growth, which may help to prevent cancer
People can get vitamin D through their diet, including in fortified foods (such as dairy products). People can also make it in their skin, although unprotected sun exposure is needed to allow this process. Those with darker skin tones make less vitamin D in their skin than those with lighter skin tones, because the pigment in the skin blocks the UV light that's needed for vitamin D to be produced. In addition, some people get their vitamin D through supplements.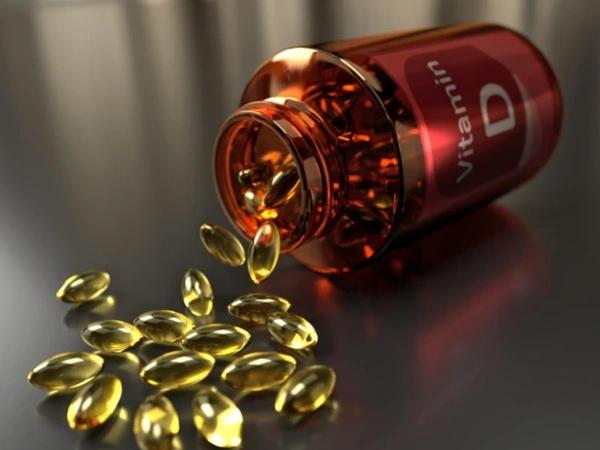 Can you get too much vitamin D?
In some cases, people are tempted to start taking vitamin D without testing their levels. Vitamin D is widely available as a supplement, and many people simply start to take it without checking to see whether they're deficient.
It's important to know that it's possible to get too much vitamin D. This can lead to an excessively high calcium level in your blood, which can cause nausea, weakness, and kidney issues (including kidney stones). Research shows that an increasing number of people are taking very high doses of vitamin D, which could lead to these issues.
This is why it's important to check your levels before you start taking vitamin D supplements. You should also check periodically while you're taking supplements, to make sure that your levels are in the normal range. You may need to increase your dose if your levels are still low, or decrease your dose if they're too high.
How to check vitamin D levels at home
In order to test your vitamin D levels, you need a blood test. This is considered to be the most accurate way to check your levels of vitamin D. You can visit your doctor and ask them to order a vitamin D test for you.
However, many people prefer the convenience of testing at home. Doing your own home test avoids the hassle and expense of a visit to your doctor's office. Many health insurance plans will not cover the cost of vitamin D testing unless you have obvious symptoms of deficiency. Even if your doctor orders the test, they may not pay for it. Home vitamin D tests may therefore be a more economical option for many people, as well as a more convenient one.
Comparing vitamin D home testing kit options
There are a few different options for getting an at home vitamin D test kit. We generally recommend the following home testing services. (We also recommend PrioritySTD for STD testing, but they don't offer vitamin D testing.) Two of these (LetsGetChecked and myLab Box) offer only home testing kits, while Health Testing Centers allows you to choose an at home or laboratory test. This may be preferred if you don't want to take your own blood sample, or if you want to choose the cheapest option possible. However, it's also less convenient for most people.
For an at home vitamin D test kit, the price is $89 for all three of these services. Although you take the samples at home, all of them offer testing of samples in accredited laboratories, so you really can't go wrong with any of them. It's important to ensure that you test your vitamin D levels before you start taking any vitamin D supplements, and to check periodically to make sure that you aren't taking too much or too little.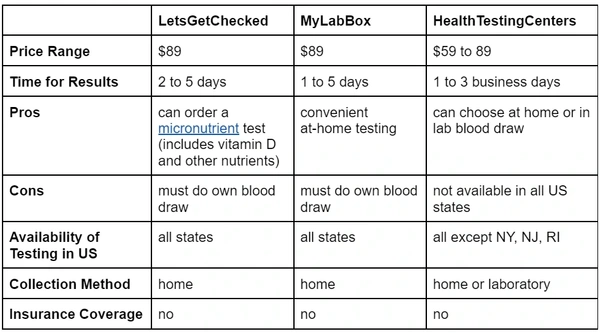 Sources
LetsGetChecked. https://www.letsgetchecked.com/. Accessed 25 Sep 2022.
myLAB Box. https://www.mylabbox.com/. Accessed 25 Sep 2022.
Health Testing Centers. https://www.healthtestingcenters.com/. Accessed 25 Sep 2022.
Vitamin D Deficiency. Cleveland Clinic. https://my.clevelandclinic.org/health/diseases/15050-vitamin-d-vitamin-d-deficiency. Accessed 25 Sep 2022.
Muacevic A, Adler JR. Prevalence of Vitamin D Deficiency and Associated Risk Factors in the US Population (2011-2012). Cureus. 2018 Jun; 10(6): e2741. doi: 10.7759/cureus.2741.
Vitamin D: Fact Sheet for Health Professionals. National Institutes of Health. https://ods.od.nih.gov/factsheets/VitaminD-HealthProfessional/. Accessed 25 Sep 2022.
Rooney MR, Harnack L, et al. Trends in Use of High-Dose Vitamin D Supplements Exceeding 1000 or 4000 International Units Daily, 1999-2014. JAMA. 2017 Jun 20;317(23):2448-2450. doi: 10.1001/jama.2017.4392.