If you're sexually active outside of a mutually monogamous relationship, then it's a good idea to get tested for STDs from time to time. Many STDs don't cause symptoms in many infected people. This means that a partner could transmit an STD to you even if they don't have any obvious signs that they're infected, and you could have an STD and not know it. That's why it's important to get tested regularly, even if you don't notice any symptoms.
You may be wondering, "How can I do STD checking near me?" There are a few different options for getting STD testing. One option is to visit a clinic for an exam and for testing, but there are also other options that may be more convenient for some people.
What types of samples will I need to provide for STD testing?
In order to get a comprehensive screening for STDs, then you'll generally need to provide multiple types of samples. Certain STDs require a blood test, so you'll need to provide a blood sample for those. This includes HIV, hepatitis B and C, syphilis, and herpes. You'll need to provide either a urine sample or a swab (of the vagina for women, or the inside of the penis for men) to test for other common STDs, including gonorrhea, chlamydia, trichomoniasis, and HPV.
The symptoms of many STDs are similar to those of a urinary tract infection (UTI), so you may be looking for "STD and UTI testing near me." This testing also uses a urine sample, so it's easy to do both of these types of testing together.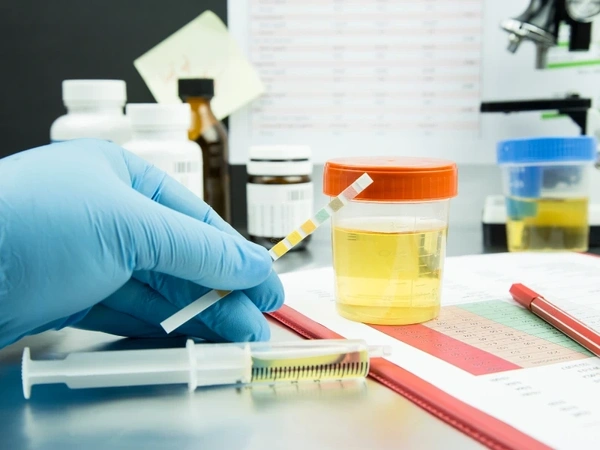 How do I find clinics near me for STD testing?
If you're wondering, "How can I check for STDs near me?", the first thing you may consider is going to a clinic. Of course, you can certainly decide to visit your own doctor and tell them about your concerns. They will do an exam, and will take samples for testing and/or send you to a laboratory to get your samples taken. For example, they may take a swab sample, but then send you elsewhere for a blood draw.
For some people, visiting your own doctor may not be the ideal choice. Many primary care doctors are very busy, and getting an appointment may be difficult. If you're looking for rapid STI testing, then you may not want to wait until your doctor is available. In addition, some people prefer to maintain their privacy when dealing with sensitive subjects like STD testing. They may not want to see their own doctor and discuss this issue with them.
For these reasons, some people prefer walk in clinic STD testing. Most cities have specialized STD clinics, where you can go to get the testing that you need. Walk in STI testing avoids the awkwardness of discussing sexual health with your doctor, and any concerns that this testing will end up in your medical record or being reported to your insurance company. However, you will still need to find a clinic near you. When checking for "STD exam near me," not everyone will find that they live near an STD clinic. You'll also have to visit the clinic in person during the times when it's open, which might not be convenient for many people.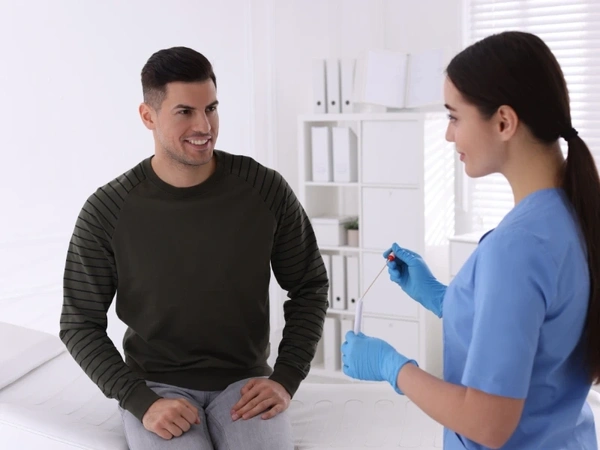 Can I order my own STD test today?
Another option is to order the test yourself, without visiting a clinic first for an exam. There are services available that allow you to choose which tests you want and order these online. You then stop by a laboratory to get the samples taken. This can be quicker and easier than going to a clinic for an exam first, and offers somewhat more privacy as well.
Most people, even those in smaller cities or towns, will find that they live close enough to a medical laboratory to stop by and get their samples taken. However, for those who live in rural areas, this option may not be as convenient.
Can I get a home STD test?
There's also another option if you're looking for "STD screening near me." The closest you can possibly get is your own home, and it's actually possible to check for STDs without ever leaving your home. You can order a home testing kit, which will be delivered to your house. You then take your own samples and mail those back to the lab. Your test results will be available online within a few days.
If you're looking for same day STI tests, then the home testing option may not be ideal for you, since you'll have to wait a few days for your results. However, for those who want maximum convenience and privacy, home STD testing works very well.
Sources
Screening Recommendations and Considerations Referenced in Treatment Guidelines and Original Sources. Centers for Disease Control and Prevention. https://www.cdc.gov/std/treatment-guidelines/screening-recommendations.htm. Accessed 20 Sep 2022.
LetsGetChecked. https://www.letsgetchecked.com/. Accessed 20 Sep 2022.
myLAB Box. https://www.mylabbox.com/. Accessed 20 Sep 2022.
PrioritySTD. https://www.prioritystdtesting.com/. Accessed 20 Sep 2022.
Health Testing Centers. https://www.healthtestingcenters.com/. Accessed 20 Sep 2022.