Can a urine test detect STDs? Read on to find out what you need to know about testing for STDs including whether urine test can detect if you're sexually active plus some more common FAQs.
Can a urine test detect STDs?
Urine tests can detect a variety of STDs and urine tests are becoming more easily available to those who need to get tested for sexually transmitted diseases. 
Urine tests are may be used to test for the presence of chlamydia and gonorrhea and are much less invasive than receiving a swab sample collection. This is good news for those who are putting off getting tested due to the thought that they may need to get a swab sample collected or get their blood drawn. 
It is so important to regularly get screened for sexually transmitted diseases due to the fact that the majority of STDs do not have any symptoms so it is easy to pass them onto your loved ones. 
Taking a urine test makes it easier for those who want to screen for sexually transmitted diseases, what's more, it is possible to get tested from the comfort of home. 
Read: Home STD Testing: 6 Best At-Home STD Test Kits in 2021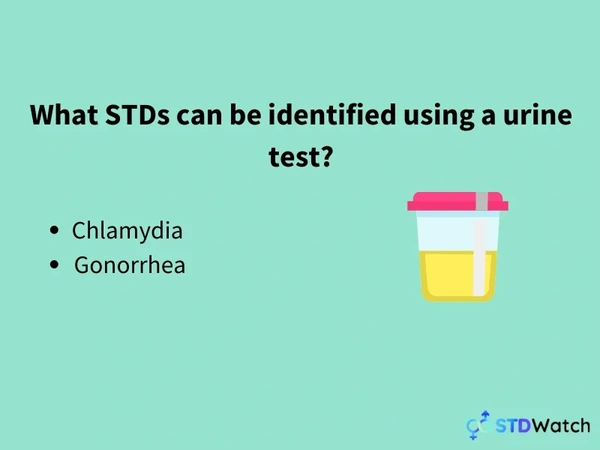 Get Your LetsGetChecked Discount for STD Test Today!
Urine tests vs. swab tests 
Urine tests can be used to identify bacterial sexually transmitted infections.
Chlamydia and gonorrhea urine tests are widely available. Trichomoniasis urine tests are also available, but they are less common.
It is important to note that the most accurate way of under-going STD testing is via bacterial culture. Bacterial cultures may be taken from using a swab sample.  That involved attempting to grow bacteria out of samples that were taken directly from the cervix or urethra.
Bacterial DNA testing looks for the DNA of the bacteria as opposed to looking for the culture.  Urine testing very simple and completely safe. You simply collect your urine sample in a sample jar and either hand it to your healthcare provider or mail it to the laboratory. 
Samples are tested in the laboratory to identify whether it contains bacterial DNA.
What do urine test results mean?
If you receive a positive test result. It means that you are infected with an STD and should be treated. A negative test means there was no evidence that you were infected with that STD at the time of the test. It is important to 
Even with a negative test, it is important to undergo regular STD testing if you are sexually active. The Centers for Disease Control and Prevention recommends getting screened once a year. Urine STD testing is not a one-time thing. You could get infected in your next sexual encounter.
Read:Are home STD tests accurate?
​​​​​​What STDs are tested in urine?
Currently, chlamydia and gonorrhea can be tested via urine. 
Buy LetsGetChecked At-Home STD Test Today!
What should not be found in urine?
Normal urine varies in color from almost colorless to dark yellow. Some foods, such as beets and blackberries, may turn urine red.
Usually, glucose, ketones, protein, and bilirubin are not detectable in urine. According to UCSF, the following should not be found in Urine. 
Hemoglobin
Nitrites
Red blood cells
White blood cells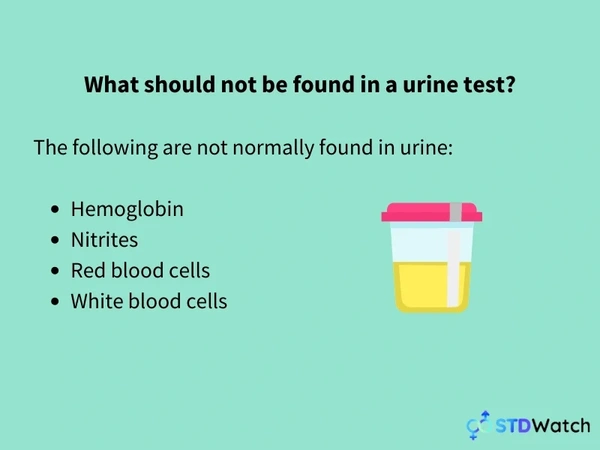 Get Tested For STD With LetsGetChecked Today!
References