Written by Dr. Andrea Pinto MD - Written on September 14, 2021
By now, you probably know that it's very important to get regular STD testing, whether or not you think you have a sexually transmitted disease. Many people can have a STD that remains completely asymptomatic or dormant for a long time, but they can still transmit the disease to their sexual partners. And if you have symptoms of an STD, getting tested promptly is the best way to determine which STD it is and how it should be treated.
Let's take a moment to discuss urgent care STD testing, where to access it, and how.
Where to access urgent care STD testing
The answer to this question will largely depend on where you live. In many places, it's possible to get STD testing at an urgent care facility if you believe that you have contracted a sexually transmitted disease. It's a good idea to conduct a quick Google search or to call the facility to find out whether they do STD testing, and under what conditions.
According to the CDC, it's important to get tested regularly if you're sexually active. STD testing guidelines include:
At least one HIV test for all people aged 13-64.
Gonorrhea and chlamydia tests every year for sexually active women under the age of 25, or over the age of 25 if they have certain risk factors.
HIV, hepatitis B, hepatitis C, syphilis tests for all pregnant women, and chlamydia and gonorrhea tests for pregnant women with risk factors.
Yearly HIV tests for people with risky sexual practices or those who share injection drug equipment.
The cost of your STD testing could also vary depending on different factors, such as your location, employment, and insurance. According to Planned Parenthood, you may be able to access free STD testing at different healthcare facilities.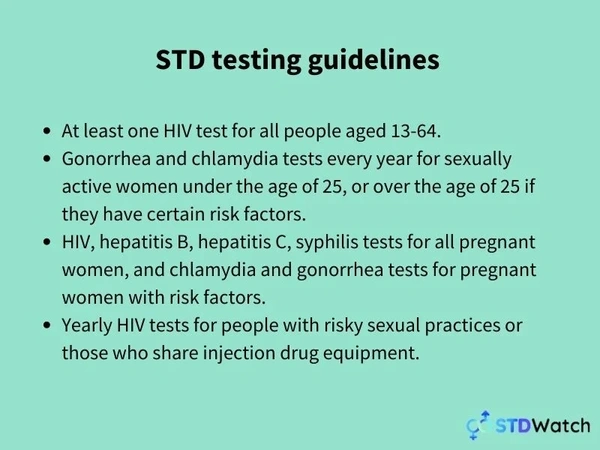 Can you get tested for STDs at urgent care?
If you go to an urgent care facility that offers STD testing, it's very likely that you'll be able to get the tests you need. Depending on the type of test, it may be processed right away or sent to a lab. STD test results can take anywhere from a few minutes to weeks, but most are delivered within 2-3 days.
In some cases, your healthcare provider could diagnose an STD after a physical examination and prescribe empirical treatment. If this happens, they will probably still take a sample so the diagnosis can be confirmed by a lab. 
However, not all urgent care facilities offer STD testing. You should also take into account the fact that you may be required to wait for a long time before a healthcare professional sees you, depending on how busy the emergency room is that day. Urgent care physicians could also refer you to a different facility to get tested, especially if you're getting a routine screening rather than testing because you have developed symptoms of an STD.
Waiting at urgent care can also result in exposure to different infectious diseases, such as colds or COVID-19, since you may be waiting with patients with other conditions. 
Alternatives to urgent care STD testing
Doctor's office STD testing
The most traditional way to test for STDs is to make an appointment with your physician to get tested at their office.
Keep in mind that your primary care physician may not be able to test for certain STDs for different reasons, such as not having access to the right supplies or laboratory. STD testing could also be outside of their scope of practice; in this case, they may need to refer you to another doctor.
Clinic STD testing
You can also get in-person STD testing without having to make an appointment with your personal physician. Depending on the area where you live, you can probably find a sexual health clinic that offers low-cost, confidential STD testing. 
At home STD testing
Thanks to home STD testing, you can now get comprehensive STD testing from the comfort of your own home. Modern at-home STD kits are just as accurate as other types of tests, but there are certain things that you need to keep in mind.
There are different providers that sell STD testing kits online, but it's important to make sure you're buying your kit from a trustworthy, high-quality source — such as STDWatch.com. Buying a low-quality kit could result in inaccurate results and a bad overall experience.
Additionally, you also need to follow the instructions included in your kit very precisely so you ensure that you're taking an adequate sample. According to the Mayo Clinic, a poor sample could lead to false negative or positive results. You will also need to wait until the incubation time for the STD has passed so that the condition can be detected by the test.
There are many ways to get tested for STDs, and it's very important to get regular screening. According to the World Health Organization, the majority of cases of STDs like HPV, chlamydia, and gonorrhea are asymptomatic, which makes diagnosis more difficult. But by getting screened, you can easily help keep yourself and your partners safe.
References