Can you take a colon cancer test from home? The simple answer is yes!
The American Cancer Society recommends that you start regular screening at the age of 45, or younger if you have a family history of colon cancer.
Excluding skin cancers, colorectal cancer is the third most common cancer diagnosed in both men and women in the United States. The American Cancer Society's estimates for the number of colorectal cancer cases in the United States for 2021 are:
104,270 new cases of colon cancer
45,230 new cases of rectal cancer
Abnormal growths called polypsmay form in the colon or rectum. Over time, some polyps may turn into cancer. Screening tests can find polyps so they can be removed before turning into cancer. Screening also helps find colorectal cancer at an early stage, when treatment works best.
Can you take a colon cancer test from home?
LetsGetChecked provide an easy to use colon cancer test which can be used from the comfort of home.
The LetsGetChecked at home colon cancer test is a fecal immunochemical test (FIT) which is used to detect blood in the stool, which may indicate the presence of cancerous or precancerous growths in the colon.
The LetsGetChecked home colon cancer screening test can help identify the presence of cancerous or precancerous growths in the colon by detecting blood that is invisible to the naked eye. This test detects human haemoglobin in the stool and so other sources of blood, such as from your diet will not cause a positive result.
The Fecal Immunochemical Test (FIT) does not determine if you have colon cancer, it indicates that you require further assessment by your physician and you may require further testing in the form of a colonoscopy.
Buy At-Home Colon Cancer Screening Test Here
When using the LetsGetChecked colon cancer test, it is important to note that those with inflammatory bowel diseases (IBD) are at an increased risk of developing colon cancer. If you have IBD your result may also be positive due to bleeding and inflammation in your colon.
The sample must be collected on a Monday, Tuesday, Wednesday or Thursday and returned on the same day that the sample is taken. You should not not collect your sample during your menstrual period.
There is a possibility that this test may not identify blood in the stool of someone who has cancer. This is called a false negative. It is very important to talk to your physician if you have any symptoms, even if your test results are normal.
Buy At-Home Colon Cancer Screening Test Here
What are the symptoms of colorectal cancer?
Overall, the lifetime risk of developing colorectal cancer is: about 1 in 23 (4.3%) for men and 1 in 25 (4.0%) for women. A number of other factors (described in Colorectal Cancer Risk Factors) can also affect your risk for developing colorectal cancer.Abdominal pain, aches, or cramps may be symptoms of colorectal cancer. If you have any symptoms that worry you, be sure to see your doctor right away.
Colorectal polyps and colorectal cancer don't always cause symptoms, especially at first. Someone could have polyps or colorectal cancer and not know it. That is why getting screened regularly for colorectal cancer is so important.
According to Mayo Clinic, the leading symptoms of colon cancer include:
A persistent change in your bowel habits, including diarrhea or constipation or a change in the consistency of your stool
Rectal bleeding or blood in your stool
Persistent abdominal discomfort, such as cramps, gas or pain
A feeling that your bowel doesn't empty completely
Weakness or fatigue
Unexplained weight loss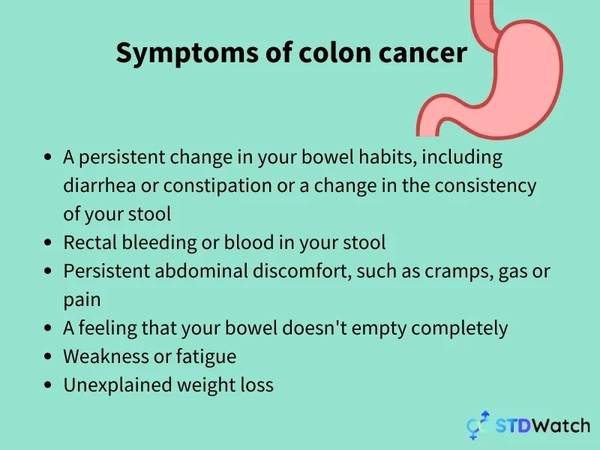 Who should get tested for colon cancer?
You should consider getting tested for colon cancer if:
You are experiencing gastrointestinal symptoms
You have a history of adenomas (benign tumors)
You have inflammatory bowel disease* (which includes Crohn's disease and ulcerative colitis)
You have an inherited syndrome (e.g. Lynch syndrome/HNPCC or FAP)
You have type 2 diabetes
You have undergone radiation therapy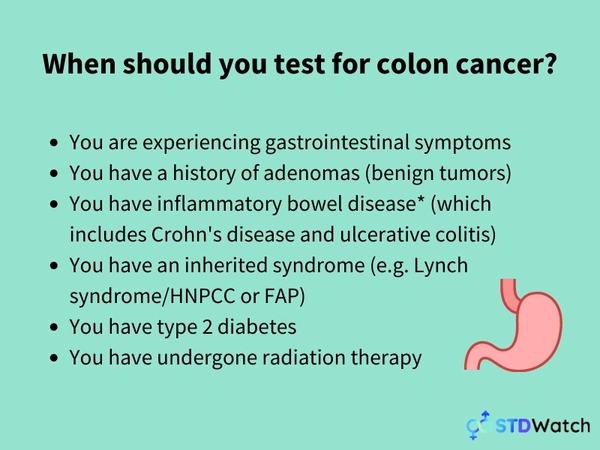 Buy At-Home Colon Cancer Screening Test Here
References