Free STD testing - does it exist?
Keeping your health in check isn't cheap, but it is important. We have looked at some of the ways you can better manage your health, and without breaking the bank. 
Read on to find out everything you need to know when it comes to free STD testing, how and where to access it. 
Free STD testing - Does it exist?
Free STD testing, while it can be tricky to track down is an option! Some routes of free STD testing include: 
Planned Parenthood
Local health departments 
Not-for-profit organizations 
University centers 
Mobile clinics
Urgent care clinics 
Planned Parenthood
Planned Parenthood offers sliding scale payments to their patients, meaning that if you come from a low-income household, you can expect to pay low or no fees for your STD testing. 
You can easily find and book at appointment at your local Planned Parenthood clinic here. 
Local health departments 
Some city and county health departments across the United States are able to offer free or low-cost STI testing for notifiable sexually transmitted diseases. 
Notifiable sexually transmitted diseases include: 
Gonorrhea
Chlamydia
Syphilis
HIV
Herpes
Hepatitis B and C
Trichomoniasis
Check the CDC Health Directory Department to learn more about health department testing locations. 
Not-for-profit organizations 
Sometimes not-for-profit organizations will run free health testing, including STD testing, especially during health awareness months. 
There could be free STD testing happening in your town right this minute. If you are looking for a low-pay or free option. Start by googling "Free STD testing plus your town name" and you never know, free testing could be moments away. 
University centers 
Most universities offer low-pay of free health services. The price for health testing including STD testing should be covered by the university. 
Are you currently a student? If so, check out what your university offers as part of their healthcare services, you never know, it could be your lucky day! 
Mobile clinics
Similarly to not-for-profit organizations, mobile clinics are often in circulation, especially around health awareness days. If you are hoping to get screened for sexually transmitted diseases, visiting a mobile clinic is definitely worth your time. 
Google "mobile health screening clinic plus town name" and there may be options available to you. 
Urgent care clinics 
Urgent care clinics almost always offer STD testing, if you are experiencing the symptoms of an STD, consider attending an urgent care clinic to get tested fast.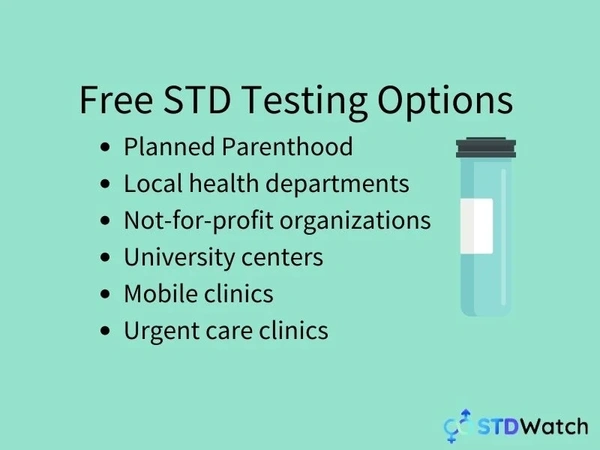 Where can I get tested for STDs for free? 
Whether you can access free STD testing will depend on a number of factors. Planned Parenthood and local health departments are often your best bet when it comes to free STD testing. 
Generally speaking, the cost of STD testing will depend on where you go, what tests you need, your income, and whether or not you have health insurance.
Many insurance plans cover STD testing. So you can probably get STD testing for free or at a reduced price if you have health insurance.
Medicaid and other government programs also offer low-pay or free STD testing. 
Planned Parenthood works to provide you with the services you need, whether or not you have health insurance. If you're worried about cost, check with your local Planned Parenthood health center to see if they can hook you up with STD testing that fits your budget.
Does CVS test for STDs?
It is possible to get tested for STDs at CVS. 
MinuteClinic provides same day walk in examination and treatment for some STD's. Many insurance plans are accepted at locations nationwide.
CVS does not offer free STD testing however. 
How much do STDs cost the US?
The cost of STDs to the U.S. health care system is estimated to be as much as $16 billion annually, according to healthypeople.gov. 
The average cost of an STD test in a doctor's office is $50 to $200 each, depending on the test.
The average cost of a home STD test is $70-$300 depending on the test. 
What about home STD tests? 
If you are hoping to get quickly and discretely screened for sexually transmitted diseases, it is also possible to get a full STD screening from the comfort of home. 
This is not a free option, but it is definitely convenient. Here are our top pick of options for home STD testing: 
Written by Hannah Kingston on July 7, 2021
References