The words "Gardnerella vaginalis" may not sound familiar to you, but this tiny bacteria plays an important role in the maintenance of female reproductive health. However, an overgrowth of G. vaginalis can also cause female health problems, such as infections of the reproductive tract.
Gardnerella vaginalis symptoms
Gardnerella vaginalis on its own won't necessarily cause any symptoms, since it's part of your normal vaginal flora. But in some cases, an alteration called dysbiosis can occur. In dysbiosis, there is an imbalance between the organisms of the vaginal flora that can lead to bacterial vaginosis.
According to Harvard Health Publishing, bacterial vaginosis is the most common cause of abnormal vaginal odor and discharge. According to the Cleveland Clinic, symptoms of bacterial vaginosis can include:
Off-white, gray, or green vaginal discharge
"Fishy" smelling discharge
Foul smell that gets worse after having intercourse
Vaginal itching or soreness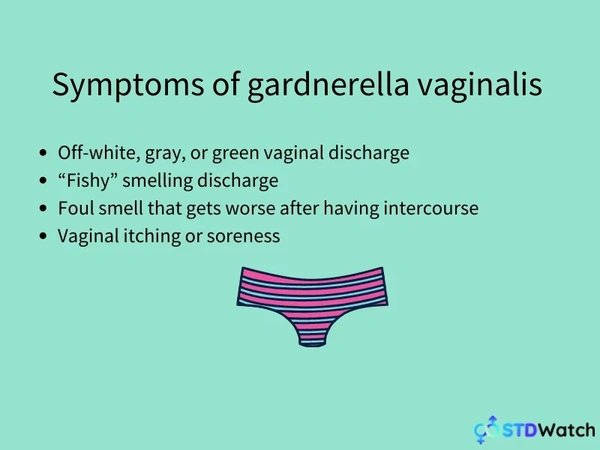 The symptoms caused by bacterial vaginosis are very similar to those caused by a wide range of STDs, and it can be difficult to differentiate between STDs without getting a test. Misdiagnosing an STD can lead to taking an incorrect treatment, which won't be effective against the disease and will only increase antibiotic resistance. To prevent this, make sure you get tested for a variety of STDs — including bacterial vaginosis — if you ever develop non-specific symptoms of an STD.
Buy LetsGetChecked At-Home Gardnerella Test Today!
What is Gardnerella vaginalis?
Gardnerella vaginalis is a type of bacteria that is normally part of the vaginal microbiota or microbiome (VMB). According to the book series Advances in experimental medicine and biology, the vaginal microbiota contains more than 200 bacterial species which are also influenced by genes, environmental and behavioral factors, and ethnic background.
Gardnerella vaginalis isn't a disease itself, but it plays a role in the development of a condition called bacterial vaginosis (BV). G. vaginalis isn't considered to be the main cause of the disease, though. Instead, it's a manifestation of an imbalance in the vaginal flora that leads to these symptoms.
Under normal conditions, the vaginal microbiota is dominated by a species of bacteria called Lactobacilli. A normal vaginal flora protects the female reproductive tract from infections by regulating the presence of microbes in the reproductive tract. But when there's an imbalance in the vaginal microbiota, reproductive health issues can happen, including bacterial vaginosis.
Who does Gardnerella vaginalis affect?
Anyone who has a vagina can get bacterial vaginosis caused by a Gardnerella vaginalis overgrowth. However, certain risks can increase your likelihood of developing this condition. Risk factors for bacterial vaginosis include:
History of multiple sex partners
A new sex partner
Smoking
Douching
Intrauterine devices (IUD)
According to the CDC, it's very rare for bacterial vaginosis to affect women who haven't had sex before — although it's still a possibility. You can't get BV from contaminated toilet seats, bedding linens, or swimming pools.
Complications of Gardnerella vaginalis infections
Despite the fact that G. vaginalis can be found in practically all women's vaginal microbiota, untreated bacterial vaginosis can still lead to serious long-term health complications. According to a study published in the journal Frontiers in Cellular and Infection Microbiology, untreated bacterial vaginosis can increase your risk of:
Sexually transmitted infections (STIs)
Urinary tract infections (UTIs)
Post-surgical complications
Infertility
Pregnancy losses
Preterm birth
Intrauterine and/or intraamniotic infections
Cervical infections
Buy LetsGetChecked At-Home Gardnerella Test Today!
How is Gardnerella vaginalis treated?
The good news is that antibiotics are very effective against most cases of bacterial vaginosis. Some cases of BV can resolve on their own without medical treatment, but it's never a good idea to leave an STD untreated for any period of time — especially considering the health complications that can derive from untreated BV.
According to the Mayo Clinic, different medications can be used to treat bacterial vaginosis. These medications include:
Metronidazole: this is the first line of treatment against Gardnerella vaginalis. This medication is available as an oral pill or vaginal gel. This medication will typically be used for 5 to 7 days, according to your doctor's prescription.
Clindamycin: this medication is available as a vaginal cream. Keep in mind that clindamycin can weaken condoms during treatment and up to three days after you stop using the cream.
Tinidazole: this medication is very similar to metronidazole, but it can be used when it's more easily accessible than metronidazole, or in cases of metronidazole allergy.
Secnidazole: unlike the previous options we mentioned, secnidazole can be taken as a single dose treatment.
Male sexual partners of patients with BV usually don't require treatment, but the infection can be passed back and forth between female sexual partners. It's important to abstain from sexual intercourse during BV treatment and for 7 days afterwards, since sexual activity can increase the risk of recurrences, and it can worsen your symptoms.
The easiest way to prevent BV and other STDs is to practice safe sex and get tested for STDs regularly. Getting tested makes it possible to diagnose infections even if they're asymptomatic, allowing you and your partner(s) — if necessary — to receive the treatment that you need to preserve your health. You can learn more about STD testing at STDWatch.com.
Get Your LetsGetChecked Discount for Gardnerella Test Today!
Resources