Is same day STD testing possible?
Read on to learn more about how quickly you can get tested, how long it takes to get your STD results and the incubation periods for some common STDs. 
Is same day STD testing possible? 
Same day STD testing is possible. Here are some sexual health screening services that offer same day STD testing: 
Priority STD testing
Health Testing Centers
STDcheck.com 
Priority STD Testing  offers same day STD testing at their walk-in labs.
Priority STD testing is a Missouri based national provider of STD testing. Priority STD testing offers testing options across 4,000 locations in the United States.
Find a Priority STD Testing lab today. 
With a simple three-step process, customers can access swift, non-invasive STD testing that takes half an hour or less, with results available in 24-72 hours. 
Priority STD Testing is a relatively new home STD testing option, however, there are plenty of benefits including:
Same day STD testing 
Walk-in labs in over 4,000 locations
Privacy and confidentiality is ensured 
Results are available within 24-72 hours 
Read our full review of Priority STD Testing. 
Health Testing Centers offers same day STD testing at over 3,500 locations across the United States. 
Health Testing Centers also offers easy to use STD tests with free and discreet shipping, and customers can generally expect to receive their package within 5-7 days.
Furthermore, once the team at Health Testing Centers has received your samples, you can generally expect to get your results within 1-2 days.
Some of the benefits of Health Testing Centers include: 
Same day STD testing 
Results are available in just 1-2 days
3,500 convenient testing locations
Confidential and FDA approved
Have the choice of walk-in lab or at-home-testing-kit
Discuss your treatment options with a certified doctor
Read our full review of Health Testing Centers. 
STDcheck.com offers same day STD testing across 3,500 locations. 
Customers have the ability to order their test, pay for it, and schedule your appointment from the comfort of your home.
STDcheck.com is partnered with over 4,500 testing centers throughout the US. 
In addition to this, they are able to use STDcheck.com's convenient "Find a Center'' tool to identify the most suitable location.  In fact, if the clinic that is chosen has an open slot, customers have the ability to take the STD test on the same day that they have ordered it.
Results are usually delivered in 1-2 days (via email).
Some of the benefits of STDcheck.com include: 
Same day STD testing
Results available in 1-2 days 
100% confidential
4,500 testing facilities 
Accepts HSAs/FSAs, PayPal & cryptocurrency
Read our full review of STDCheck.com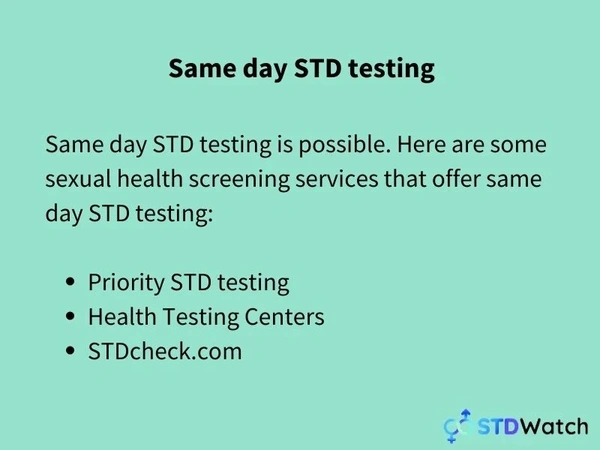 Is it possible to get same day STD results?
Most STD results take 3-5 days. 
Our partners above stipulate that STD results can be made available within 1-3 days which is impressive. 
As these companies are walk in labs, it is very possible that they can provide faster results than most doctors who will need to send samples off to be analyzed, review the results themselves and then call you back. 
Do STDs show up right away on tests?
The average incubation period for common STDs is 2-3 weeks. Some common STDs such as syphilis, chlamydia and gonorrhea may take mere days to show up on an STD test. 
HIV may take 3 months to show up on a test according to Planned Parenthood. . 
How long does it take to get STD results back?
STD results can take anywhere between 1 day to 2 weeks to come back from the lab. 
It depends on the type of test you are taking, your current health status and where you are getting tested. 
References