If you have sex outside of a mutually monogamous sexual relationship, then it's important to know how to protect yourself from STDs. Some people rely on asking their partners whether they have any diseases, but this isn't a reliable way to avoid getting an infection. Even if all of your partners are completely honest, there's still the fact that not all STDs cause symptoms. In fact, for many STDs, it's relatively common for people who have the infection not to have any symptoms at all.
Because of this, it's important to get STD screening from time to time, in order to make sure that you haven't acquired any infections. Some people choose to get screened along with a new partner, before they have sex. By doing the screening together, you show your commitment to keeping each other safe. This can become a way of establishing trust in the relationship, and allows you to fully enjoy sex with your partner without being worried that you may end up with an STD.
If you live in or near Houston, you may be looking for a clinic near you to get STD testing. How can you find STD testing in Houston? Can you maintain your privacy during this process?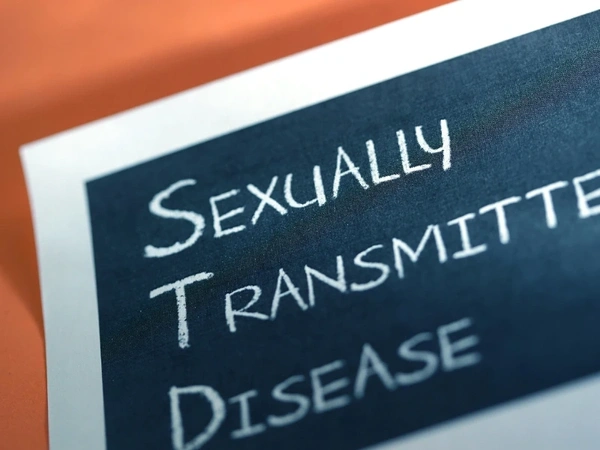 What STD tests do you need?
Different types of STDs require different types of testing in order to detect them.
If you've been notified that a partner of yours has tested positive for a certain STD, then you may want to test for that disease alone. However, if you're doing a general screening, then you may want to choose an STD panel, which tests for multiple different diseases at once. This often requires giving both a urine sample and a blood sample.
Can you order your own STD tests in Houston?
There are a few different ways to get the STD testing that you need. You could choose to visit your doctor and let them know that you need STD testing. They'll order the necessary tests, and then you'll go to a lab to have the samples taken. However, this approach doesn't always protect your privacy very well. If you use insurance to pay for the visit and the testing, then the fact that you were tested may be visible to others who share your insurance plan, even though the test results won't be shown.
To help maintain your privacy and your own control over your sexual health, you may want to order your own tests. One possibility is to order the tests online and then go to a lab to have the samples taken.
Finding an at home STD testing kit in Houston
You can also use an STD test kit at home. In Houston, there are a few different options available, because most services are able to deliver kits in the state of Texas. You order the home test kit, and it's delivered to your door in discreet packaging that doesn't reveal what's inside. You'll take your samples, and mail them back to the lab for testing. You'll then be able to access your results online in a few days.
Comparing options for a self testing STD kit in Houston
In general, there are a few different STD testing services that we recommend. If you're looking to order an at home STD kit in Houston, you'll have access to any of these services. LetsGetChecked and MyLabBox both offer home testing services exclusively. With Priority STD, you'll order your own test, but then you'll go to a lab to have your samples taken. With Health Testing Centers, you can choose either the at home STI kit in Houston, or going to a lab. Because Houston is a major metropolitan area, you won't have any trouble finding a convenient lab if you prefer that option.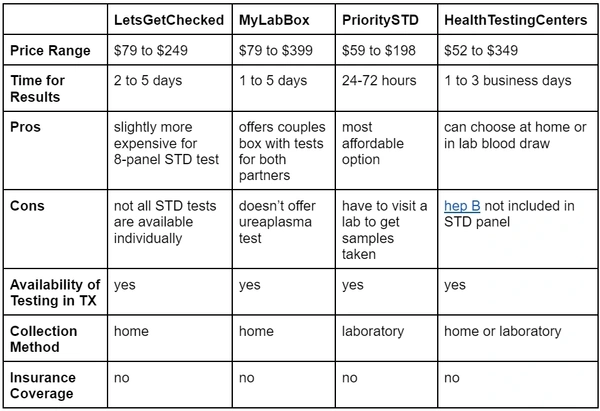 Sources
LetsGetChecked. https://www.letsgetchecked.com/. Accessed 27 Oct 2022.
myLAB Box. https://www.mylabbox.com/. Accessed 27 Oct 2022.
PrioritySTD. https://www.prioritystdtesting.com/. Accessed 27 Oct 2022.
Health Testing Centers. https://www.healthtestingcenters.com/. Accessed 27 Oct 2022.
Screening Recommendations and Considerations Referenced in Treatment Guidelines and Original Sources. Centers for Disease Control and Prevention. https://www.cdc.gov/std/treatment-guidelines/screening-recommendations.htm. Accessed 27 Oct 2022.