What is trichomoniasis?
Trichomoniasis is a sexually transmitted infection caused by a parasite called trichomonas vaginalis (TV), which passes from an infected person to another during sex.
The most common parts of the body to get infected are present in the lower genital tract (vulva, vagina, cervix, or urethra) according to the Centers for Disease Control and Prevention.
Symptoms of trichomoniasis
Trichomoniasis symptoms in women may include:
Itching in and around the genitals
Redness or soreness in and around the genitals
Discomfort while urinating 
A change in discharge (greenish colour)
A fishy-smelling discharge
Read: How does a trichomoniasis test work? 
Trichomoniasis symptoms in males may include: 
Itching or irritation inside the penis
Burning after urination or ejaculation
Discharge from the penis
How is trichomoniasis transmitted?
Trichomoniasis is passed from an infected person to another while having sex without a condom.
Read: You Can Get Trichomoniasis if No One Cheats
Where can you purchase an at home trichomoniasis test?
LetsGetChecked offer 3 types of test which include trichomoniasis among a list of other diseases, the Basic 3 test offers trichomoniasis testing along with Chlamydia and gonorrhea for just $89.25 ($119 before our coupon "GET25").
In case you want more extensive options there are other tests available including trichomoniasis as the Standard 5 test for just $111.75 ($149) and the Complete 8 test to detect the 8 most common infections for just $186.75 ($249).
Medication sent to you, at no extra cost if required. 
Order a LetsGetChecked Trichomoniasis Test Here
MyLAB Box offers the Safe Box which include Trichomoniasis along with HIV, Chlamydia and Gonorrhea for just $151.2 ($189 before our coupon "WATCH20").
The most popular option is the Uber Box for just $215.2 ($269), In case you want more comprehensive option, there is other tests available including trichomoniasis (and other 13 infections) the Total Box for just $276.75 ($369). Results are received within 5-11 days.
Health Testing Center offers a simple and affordable test kit at just $99 for both men and women which detects trichomoniasis, chlamydia and gonorrhea using a urine sample.
Everlywell offers a trichomoniasis test for just $49 by Everlywell, detects the presence of trichomonas vaginalis protozoan in the urine sample collected from your home.
The Healthy Women Kit offered by Nurx tests for Trichomoniasis as well as HIV, chlamydia, gonorrhea, and syphilis.
Where can you get a walk-in trichomoniasis test? 
In the case you still want to perform trichomoniasis test on a center or location near your home, both Priority STD and Health Testing Center are great options for you.
Priority STD 
In the case of PrioritySTD, it offers 100% confidential testing which can be done on just 5 minutes and provide you results in just 1-2 days. With over 4,000 testing centers nationwide, you have an option no matter in which state you are located.
Health Testing Center
Health Testing Center is also another great option with affordable prices. Either if you decide to test at home or choose a location, they offer both options.
Most results are available within 1-2 business days and all test are HIPPA compliant.
Sample collection for trichomoniasis 
No test preparation is needed before collecting the sample.
Please read instructions carefully before starting with the sample collection and the process will be easy.
Vaginal swab: If you are using a vaginal swab to collect the sample, please make sure not to pour out the preservative solution that is inside the collection tube. After collecting the sample of fluid from the vagina, please place the swab gently inside the tube, seal it with the yellow cap and put it inside the bag.[4] Urethral swabs are also available for men but not as common as vaginal swabs.
Urine sample: If the test you are using requires a urine sample, please read instructions carefully before starting with the test, or watch this video. Instructions are very easy to understand, with 4 easy steps in summary: 1) wash your hands in warm soapy water before you start to get rid of dirt and bacteria, 2) pass the first part of urine into the collection box until is full and finish the remaining fluids in the toilet, 3) carefully pass the urine sample from the box to the tube until you reach the marked lines on the tube 4) secure the lead cap and put inside the bag.
Understanding trichomoniasis STD testing results
If your test shows a positive result is highly probable that you have trichomoniasis. In such case, if the test was performed at home, you will be contacted by a physician to follow you during the process and proceed with the next steps.
Trichomoniasis results are very accurate for women. In the case of men, as they can carry the virus and be asymptomatic the tests are more prone to present more false negative results than women.
On the other hand, it is very rare that you receive a positive result when you do not have trichomoniasis. [5]
For comprehensive results, it is suggested that trichomoniasis is included in the regular testing options.[6]
When to get tested for trichomoniasis?
It is important to understand that trichomoniasis can be present even without you presenting symptoms.
Recent studies have mentioned that 8 in 10 people with Trichomoniasis show no symptoms at all.[7]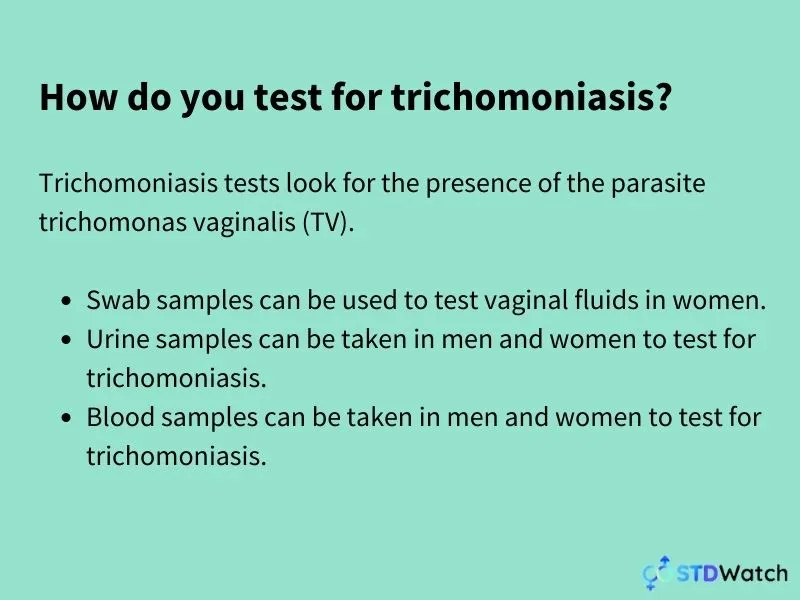 You can quickly and easily order an at home trichomoniasis test from the following providers: 
What samples do each at home provider require? 
What are the complications of trichomoniasis?
Can cause genital inflammation, making easier for sexual transmitted diseases as HIV to be passed to others[8]
In women, this inflammation normally causes an inflammation of the vagina or vaginitis, other inflammations may include cervicitis and pelvic inflammatory disease.
In the case of men, T vaginalis infection can manifest as urethritis, which is an inflammation of the urethra which becomes irritated causing pain when urinating, an urgent need to urinate and difficulty to start urination. [9]
In fact, studies suggest that up to 11% of cases or urethritis are caused by trichomoniasis[10]. Other complications for men also include prostatitis, epididymitis, urethral stricture or scarring which narrows or blocks the passageway of urine to the bladder [11], and infertility. [12]
How does trichomoniasis affect a pregnant woman and her baby?
In pregnant women, Trichomoniasis has been associated with a higher risk of low birth weight, preterm delivery, and intrauterine infection.[13]
Although rare, it is also possible for trichomoniasis to the passed to the baby during birth. [14]
What is the treatment for trichomoniasis?
Trichomoniasis can be cured with a single dose of prescribed antibiotic medication including 2g of metronidazole or tinidazole.
These are the only class of antimicrobial medications known to be effective against T. vaginalis, both are cleared by the FDA, with Tinidazole being generally more expensive.
Because of the high rate of reinfection among women treated for trichomoniasis, retesting is suggested for all sexually active women 3 months after the treatment regardless of their partner status. [15]
Can trichomoniasis be cured?
Trichomoniasis can be cured with the use of antibiotics of the metronidazole and tinidazole class.
References