Premature ejaculation (PE) is the name given to a condition in which males ejaculate sooner than they would like to during sex. 
Premature ejaculation is the most common sexual dysfunction issue in males, and it can occur during different stages of sex including at the beginning of foreplay, when a male attempts to penetrate their partner and during the earlier stages of sex.
There are two different types of premature ejaculation: 
Lifelong premature ejaculation 
If you haven't been in control of your ejaculation from the time of your first sexual experience, this is known as "lifelong premature ejaculation."
Acquired premature ejaculation 
If you've had a period of normal control over your ejaculations before premature ejaculation begins later in life, this is known as "acquired premature ejaculation."
Premature ejaculation may cause distress for one or both partners, it can affect men from the first time they have sex, or it can develop later in life following a period of normal sexual function and activity. 
When we talk about PE, it is important to note that on occasion it is totally normal to lose control over ejaculation. If you ejaculate earlier than you would like to occasionally, this should not be something to worry about. 
A lot of men ejaculate sooner than they would like to on certain occasions, particularly when they first start having sex. 
It is also common to ejaculate quickly if you have not ejaculated in an extended period of time either via masturbation or sexual intercourse. 
If you ejaculate quickly sometimes, it is unlikely that you will need to speak with your doctor about your condition, however, if premature ejaculation is beginning to feature in the majority of sexual experiences you have, it could be time to get some extra support. 
What causes premature ejaculation?
Some of the most common causes of premature ejaculation, according to Mayo Clinic include: 
Neuro-chemical imbalances (lifelong premature ejaculation)
Negative early sexual experiences
Depression
Anxiety
Stress 
Relationship issues 
Erectile dysfunction 
Experiences of sexual abuse 
Religious beliefs
The causes of premature ejaculation may be complex and can depend on whether the premature ejaculation is lifelong or acquired. 
For instance neuro-chemical imbalances are often associated with lifelong premature ejaculation. Usually those who are living with lifelong PE will require less stimulation to reach orgasm, and therefore ejaculation may occur sooner than they would have liked. 
Acquired PE is more likely caused by life events that may activate performance anxiety. This performance anxiety may be related to your sexual performance or anxiety related to a particular sexual situation. New relationships and inexperience may also be a cause of acquired premature ejaculation. 
Acquired PE may be caused by erectile dysfunction, i.e. a need for more intense sexual stimulation to get and maintain an erection, or anxiety about the erection problem itself. Relationship problems, depression, and chronic stress can also lead to acquired PE.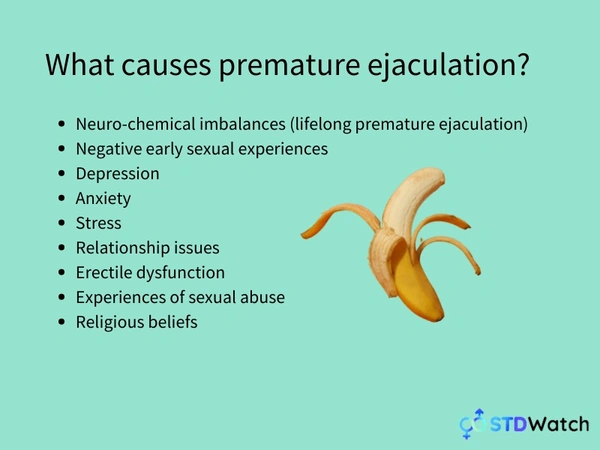 How long should a man last before ejaculation? 
There is no "right or wrong" when it comes to how long a couple will have sex for. However, premature ejaculation is defined as lasting less than one minute from when the penis enters the partner, or when they can't delay ejaculation during intercourse.
When it comes to the duration of a sexual experience, there is no definitive rule of thumb, what could be a short period of time for one couple could be plenty for another. 
A 2005 multinational study found that the average sex session lasts from 33 seconds to 44 minutes, with the average session lasting 5.4 minutes.
How to fix premature ejaculation 
Psychological and behavioural therapy as well as certain types of medications are the main treatments for premature ejaculation. 
Your treatment plan will be decided by your healthcare professional depending on your particular circumstances. Sometimes a number of different treatments are used together to treat premature ejaculation. 
Psychological therapy may be used to work through the feelings and emotions that lead to sexual dysfunction. 
Psychological therapy can help to build confidence when it comes to your sexual performance. This type of treatment may be used alongside behavioural therapy and medications. 
Behavioural therapy may be used to help with the physical part of having sex with your partner through exercises that aid in delaying ejaculation. Behavioural therapy helps to train the body to delay ejaculation. 
Some of the methods used may include: 
The Squeeze Method
You or your partner stimulates your penis until you are close to ejaculation. When you are close, you or your partner firmly squeezes your penis so your erection partly goes away. The goal is for you to become aware of the sensations leading to climax. The squeeze method may help you better control and delay climax on your own.
The Stop-Start Method
In this method, you or your partner stimulates your penis until just before ejaculation. When you are about to climax, you or your partner stops until the urge to climax lets up. As you regain control, you and your partner start stimulating your penis again. This process is repeated 3 times. You ejaculate on the fourth time. You repeat this method 3 times a week until you have gained more control.
Medical Therapy involves the use of medications. 
There are no drugs that have been approved in the U.S. to treat PE, however some doctors will recommend the use of numbing creams and sprays to slow ejaculation in men with PE. Antidepressants have been shown to delay orgasms.
Drugs such as:
Fluoxetine
Paroxetine
Sertraline 
Clomipramine
 Tramadol 
Drugs for PE can be taken each day or only before sex. Your health care provider will suggest when you should take a drug based on your activity level.
The best time to take the drug is not clear. Most doctors suggest from 2 to 6 hours before sex. PE can return if you stop taking these drugs. Most men with PE need to take these drugs on an ongoing basis.
95 out of 100 men will recover from PE. There is no way to promise recovery, but learning how to relax may help. If the problem stays, keep working with your health care provider to find solutions.
FAQs
If a man ejaculates quickly, does it mean he is inexperienced? 
Not necessarily - it is normal to ejaculate sooner than you would like to on occasion. Sometimes it can be related to the daily stresses of life or a physical condition and it will have nothing to do with a man's level of experience. 
Does viagra help with premature ejaculation? 
Viagra is not an effective treatment for premature ejaculation, meaning it usually won't have any effect on the amount of time for which you can have sex before you ejaculate, viagra will also not prevent you from ejaculating prematurely. 
What is the average duration of sex?
A 2005 multinational study  found that reports ranged from 33 seconds to 44 minutes, with the average session lasting 5.4 minutes.
How often should a man release sperm?
A study found that men ages 40–49 that ejaculated more frequently had a lower risk of prostate cancer. Men with the lowest risk ejaculated at least 21 times per month. The study did not establish that ejaculation could prevent cancer in younger men.
Resources