The thyroid is a small gland located at the base of the neck that consists of two lobes of tissue that lie in front of your trachea, connected by a thin strip or isthmus. Although small, the thyroid works continuously to secrete thyroid hormones, which are responsible for the regulation of many important processes in your body. As a result, any type of thyroid condition can have a significant effect on your health and everyday life.
Thyroxine is one of the main hormones produced by the thyroid gland. Your thyroxine levels can be very useful in order to diagnose many different types of thyroid disease.
In recent years, overactive and underactive thyroxine self test kits have become available. Read on to learn more about some of the best at home thyroxine tests currently on the market.
What is thyroxine?
Thyroxine is a hormone that's produced by the thyroid gland. This hormone contains iodine, and according to the National Cancer Institute, it works by increasing the rate of different chemical reactions that occur inside the cells of the human body. It also helps control growth and development.
Thyroxine can also be synthesized in a laboratory, and it's used to treat thyroid disease. This hormone is also referred to as L-3,5,5'-tetraiodothyronine, T4, and thyroxin.
According to the Society for Endocrinology, thyroxine is the main hormone that the thyroid gland secretes into your bloodstream. However, T4 is an inactive form of thyroid hormone, which needs to be converted into triiodothyronine (T3) in order to function.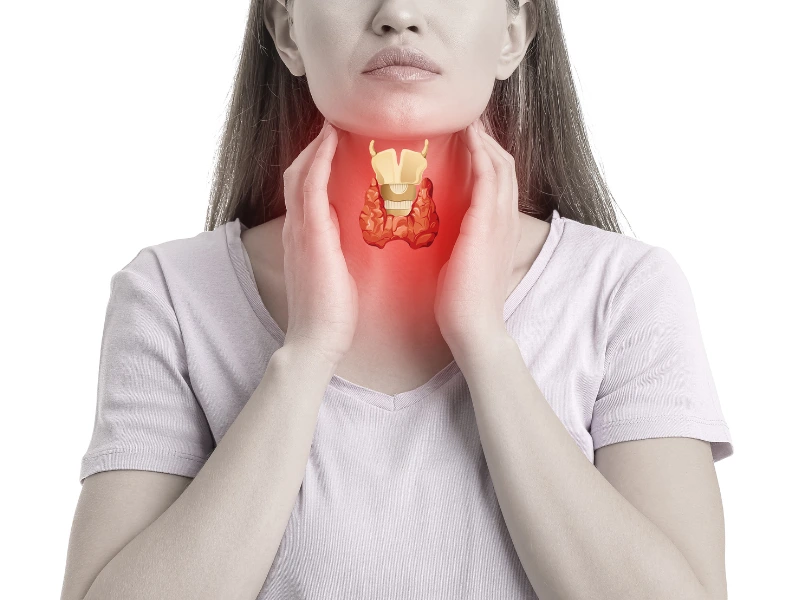 Thyroid hormones play an incredibly important role in the human body, with functions that include the regulation of different processes, such as:
Metabolism

Weight

Mood

Sleep

Energy levels

Body temperature

Skin, hair, and nail growth

Heart, muscle, and digestive function

Brain development

Bone maintenance
How to test thyroxine at home
In the past, anyone who required thyroid hormone testing of any kind was required to attend a medical consultation to get a lab order. Without this type of order from a physician, you couldn't go to a lab to get any type of test. However, direct-to-consumer medical technologies have made it possible for testing to become available to a wider audience. 
There are two different ways to use a thyroxine self test kit. Some providers only offer direct-to-consumer lab testing, which means that they provide you with a lab request slip that you can take to a certified lab for them to perform the test without having to go to a physician beforehand. These types of providers typically work with a network of affiliated labs in different locations, allowing patients to get tested in a convenient manner. 
At-home thyroxine tests can be just as accurate as traditional tests. But it's important to make sure that you're getting your test from a high-quality provider that works with CLIA-certified labs. If you're using a test kits that requires that you collect your own samples at home, you'll also need to ensure that you're following the instructions closely so your test results are accurate.
Who should get a thyroxine test at-home kit?
Home thyroxine test kits are easily available in the US, but you should still keep some measures in mind before ordering a test kit. 
At-home lab testing is incredibly useful and it can be a powerful tool to help you manage your health; however, it's not the best option for everyone. At-home thyroxine tests shouldn't be your first choice if you're experiencing new symptoms that you never had before and haven't been properly diagnosed with thyroid disease. Instead, you should schedule a full medical checkup so your physician can examine you and provide an accurate diagnosis.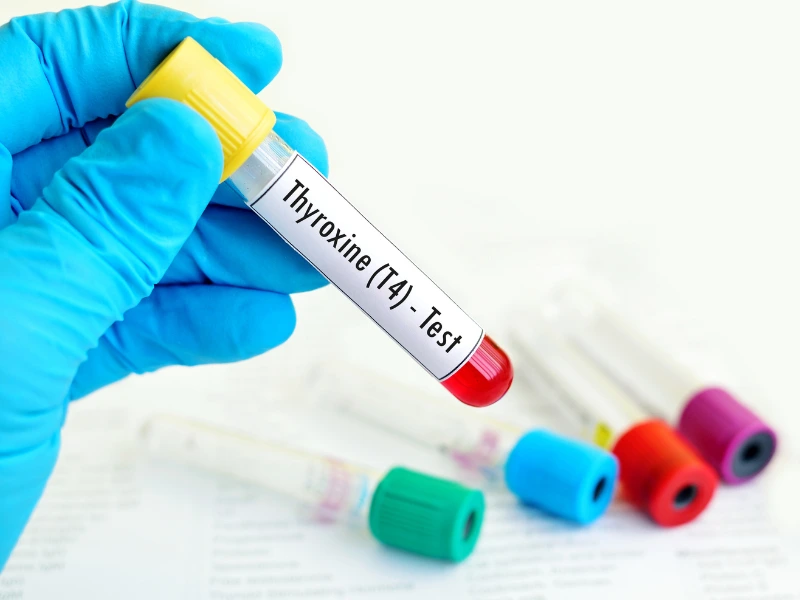 But on the other hand, learning how to know your thyroxine levels at home can be very helpful if you already have a diagnosis and want to monitor your condition regularly. These tests can also be used to determine whether your thyroid disease treatment is working properly.
Best at-home thyroxine tests
HealthLabs
HealthLabs offers a few different options for thyroxine testing. The company offers the Total T4 (Thyroxine) Test ($49), which measures the total levels of T4 in the blood, and the Free T4 Test (FT4) ($39), which measures the T4 in the blood that isn't bound to proteins. 
This provider also offers wider testing panels that include T4 testing, such as the Thyroid Panel ($39) and Thyroid Panel with TSH (Thyroid Stimulating Hormone) ($59). HealthLabs allows you to get a lab request slip, which you'll need to bring with you to one of their labs. Typically, test results are available in 1-3 business days, and you can pay for your test using FSA/HSA cards.
LetsGetChecked
LetsGetChecked offers two testing panels that include free T4 testing: the Thyroid Test ($99) and the Thyroid Antibody Test ($119). Both of these testing panels require fingerprick blood samples, and results will be ready in 2-5 days. 
The company also has a dedicated clinical team that will be available to explain your results and provide medical guidance if any of your test results come back positive. LetsGetChecked also accepts FSA/HSA cards as payment options.
myLAB Box
myLAB Box doesn't offer a dedicated T4 test; however, several of the company's testing panels include T4 testing.
The At Home Thyroid Health Screening Test ($120) includes TSH, T3, T4, and TPO antibodies tests. This panel can be used to monitor thyroid health in both men and women, and it only requires a fingerprick blood sample. myLAB Box works with CLIA- and CAP-certified labs, and you can pay using FSA/HSA cards.
Lab results are available in 2-5 days, and you'll receive a free physician phone consultation if your results are abnormal.
Sources
thyroxine - cancer.gov
Thyroxine - yourhormones.info