How long do STD tests take?
STD tests can take anywhere between take 2 days to 2 weeks. 
The length of time STD tests take will depend on a couple of factors, including: 
The STD you are testing for. 
The provider you choose to handle your STD test. 
We will talk through how long STD tests take if you are getting your test from 1. A doctor 2. A walk-in lab 3. At home STD tests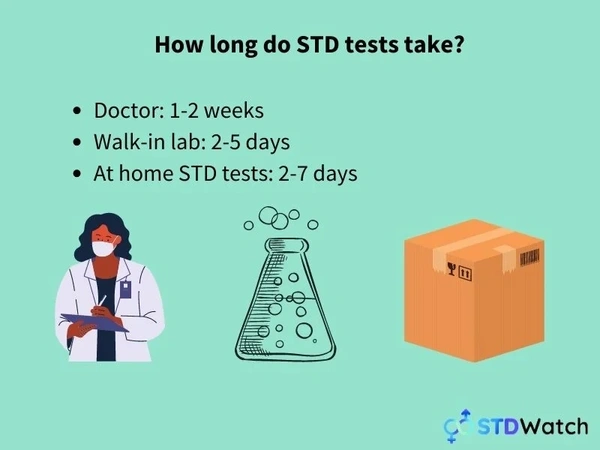 Buy LetsGetChecked At-Home STD Test Today!
Doctor 
Some STD tests may take 1-2 weeks if you attend a doctor. Initially you will need to book an appointment, and then attend the appointment. Once your samples have been collected, your doctor will send them to a laboratory, although some tests can be performed right during your consultation. Depending on your test results, you will receive your results via a phone-call, email or text.  Based on your results, you may need to book another follow-up appointment.
If you are looking for the fastest option when it comes to STD tests, doctors are probably not the right option for you, especially due to the fact that there may be long waiting times to get an appointment. Just keep in mind that if you're experiencing concerning symptoms, you should still consider seeking medical assistance.
A walk-in lab 
STD tests may take 2-5 days if you attend a walk-in lab. 
Our favourite options are Health Testing Centers and STDcheck.com. 
Health Testing Centers 
Health Testing Centers offers STD results in 1-2 days, and has 3,500 STD testing centers across the United States. 
Furthermore, once the team at Health Testing Centers has received your samples, you can generally expect to get your results within 1-2 days.
Read Health Testing Centers Full Review
STDcheck.com
STDcheck.com offers STD results in 1-2 days. STDcheck.com has 4,500 testing locations across the United States. 
STDcheck.com offer customers the ability to order the test, pay for it, and schedule your appointment from the comfort of your home.
STDcheck.com is a great choice for customers that want fast STD testing and fast results. In fact, if the clinic that is chosen has an open slot, customers have the ability to take the STD test on the same day that they have ordered it.
At home STD tests 
Home STD tests may take 2-7 days.
The great benefit of at home STD tests is that you do not have to leave your home, you can get the full testing experience without the need for waiting lists or waiting rooms! 
Here are the turnaround times of some of our favourite at home STD test providers: 
Get Tested For STD With LetsGetChecked Today!
How long do STD test results take?
2-3 days is the average length of time it takes to receive STD test results. However, it's very important to make sure you follow certain instructions so your test is as effective as possible. Making sure you take the sample correctly and wait until the incubation period is over can make the difference between a false and a true negative.
The body takes time to recognize and produce antibodies in reaction to the invading bacteria, virus or parasite. This is known as the "incubation" period. 
Taking an STD test too early you may lead to negative result for the disease even if you do have it.
Here are the following incubation periods for some common STDs: 
Chlamydia: 7-21 days
Gonorrhea: 1-14 days
Syphilis: 10 to 90 days
Herpes 1: 2-12 days
Herpes 2:  2-12 days
Hepatitis A: 15-50 days
Hepatitis B: 30 to 180 days
Hepatitis C: 2-26 weeks
HIV: 40 to 60 days
HPV: 2 weeks to 8 months
Trichomoniasis: 5-28 days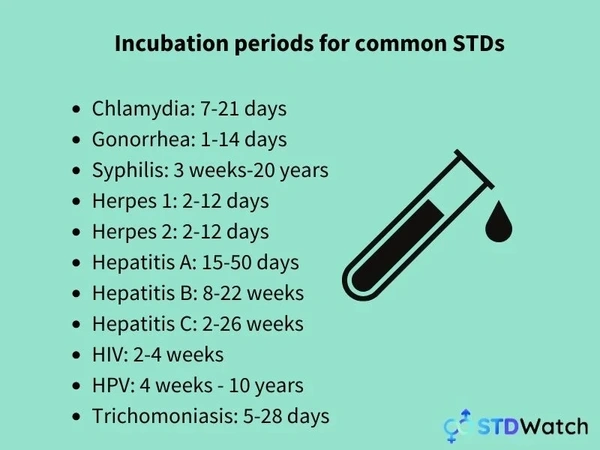 Do STDs always show up in results?
STDs don't always come up in results. 
On average, STDs take 1-3 weeks to show up on a test from the moment that you had unprotected sex. 
STD tests detect antibodies in your body, not symptoms. Therefore, if you are experiencing symptoms, you should speak with your doctor as a first point of call. 
If you are concerned that you have a sexually transmitted disease but you are not experiencing any symptoms, you should get tested as soon as possible, excluding your annual check up. 
How soon can you be tested for STDs?
You can get tested for STDs as soon as you like, however, it is possible that you will receive a negative result even if you do have an STD, due to the fact that your body has not yet started to produce antibodies. 
Use the above chart to determine how soon you can get tested for specific STDs. ​​​
Get Your LetsGetChecked Discount for STD Test Today!