Firstly, it's important to define what rapid STD testing actually is!
Rapid STD testing
A rapid STD test is a test that is used to detect sexually transmitted diseases in minutes rather than days.
One of the main differences between traditional STD testing and rapid STD testing is the collections that are taken.
Traditional STD testing (attending the doctors or a walk-in lab, and today using home STD tests) may require blood, urine or swab samples and samples are sent to a laboratory.
Rapid STD testing only uses urine and swab samples, samples are not sent to a lab and results will be ready in a matter of minutes.
There are two key benefits of rapid STD testing. Firstly, those who have a phobia of giving blood or those who are deterred from health testing because they have to give blood will not need to worry about this aspect.
Secondly, rapid STD testing offers instant results which means that those who require treatment can get treated on the spot or alternatively they will be able to access a prescription for treatment that day.
Rapid STD testing isn't the most reliable option however and a number of issues may arise during the testing process.
Can you get instant STD results?
Rapid STD tests offer rapid results. Your results from a rapid STD test will just take minutes.
In saying that, it's important to flag that evaluation in a professional laboratory is always more accurate and safer than a rapid test.
An STD test that is evaluated in a laboratory will always be more precise than a self-test. For those who are self-testing, mistakes can also happen when performing the test.
Not all rapid STD tests are created equally, and very few have FDA approval in the United States.
It's important to ensure that if you are testing yourself, you pick a reliable STD test provider who is accredited and clearly displays their certifications on their website.
Read: Home STD Testing: 6 Best At-Home STD Test Kits in 2021
Most importantly, you need to ensure that your STD test is being sent to an accredited laboratory. Rapid STD tests that provide a result minutes after you have taken your sample generally tend to have a bad reputation.
The majority of rapid STD tests (those that offer a result in minutes) may be manufactured with correct medical device guidelines, but most will not be FDA approved. This is why it is so important to put the research in before making a purchase.
Do rapid STD tests work?
It depends on the rapid STD test provider, but in simple terms, not always. There are a number of things that can go wrong when it comes to rapid STD tests.
A rapid STD test may also produce a false result if it isn't handled correctly.
On top of that, if you test within the incorrect time frame, you could get a negative result when you have an STD.
Collecting a sample incorrectly, or testing outside of the window when you would likely test positive are two common mistakes when it comes to rapid STD testing.
Here is a reminder on incubation periods for STDs: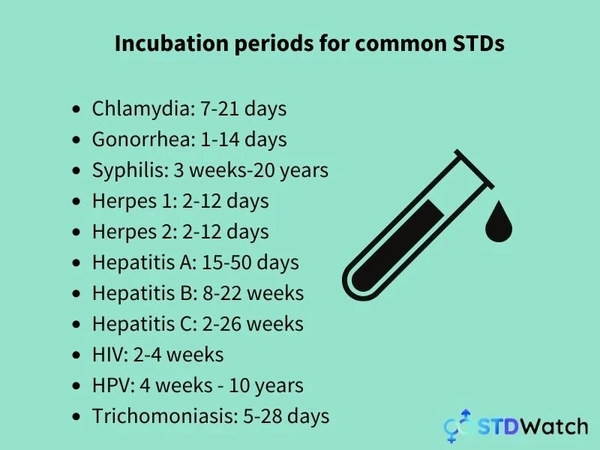 Read: Can you get an STD from kissing?
How accurate are rapid STD tests?
The accuracy of rapid STD tests is debatable.
If handled correctly and all instructions are followed closely, we have a marker for the sensitivity and specificity of rapid STD tests. Let's define sensitivity and specificity before we apply them to some common sexually transmitted diseases.
Sensitivity refers to how well a test detects the disease; a test with low sensitivity does not identify many patients with disease, and a test with high sensitivity is useful to exclude a diagnosis when results are negative.
Specificity: refers to how well a test correctly identifies patients with disease because tests with high specificity have a low false-positive rate. A test with low specificity diagnoses many patients without disease as having disease.
Here is the sensitivity and specificity of some of the most common STDs in the United States according to Nurx:
Gonorrhea: 97% specificity, 86% sensitivity
Chlamydia: 97% specificity, 86% sensitivity
HPV: 84% specificity, 86% sensitivity
Syphilis: 91% specificity, 85% sensitivity
HIV: 99-99.9% specificity, 92-99% sensitivity (depending on method of collection)
Herpes: 99% specificity, 93% sensitivity
Read: How long do STD tests take?
How fast can you test for STDs?
The good news is that incredibly fast STD testing is available to the public without the need to use a rapid STD test which may not provide the same level accuracy as visiting your doctor, attending a walk-in lab or using a certified, accurate at home STD test.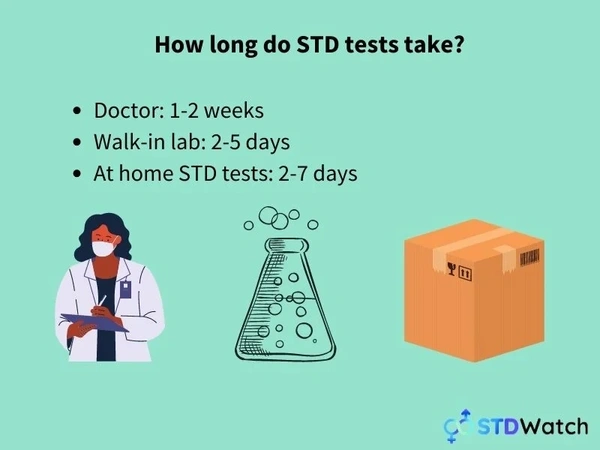 References