What is PCOS?
Polycystic ovary syndrome, commonly referred to as PCOS, is the most commonly diagnosed disorder of the endocrine system in young women.
According to the Mayo Clinic, PCOS causes numerous fluid-filled cysts to develop on your ovaries during each menstrual cycle. These cysts contain immature eggs. Under normal circumstances, your ovaries release a single mature egg into the Fallopian tubes and uterus each month. This process is called ovulation, and it's essential for you to be able to get pregnant or have regular periods.
However, hormonal imbalances in PCOS make it difficult for your body to complete this process, which results in irregular periods and ovulation disorders.
According to Johns Hopkins Medicine, PCOS is a condition in which your body produces excessive amounts of androgens, which are male sex hormones. Usually, women produce male sex hormones in very small amounts. However, PCOS causes the female body to make too much androgen, which leads to a wide range of symptoms. PCOS can also increase your risk of several long-term health complications.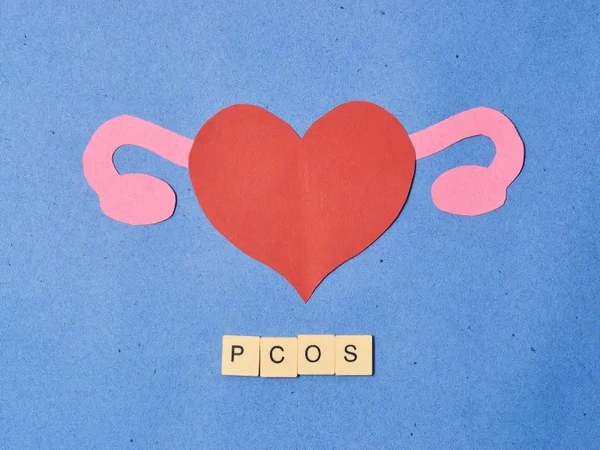 PCOS symptoms
The hormonal imbalances caused by PCOS can result in a large number of physical manifestations and health problems. However, there are also many patients with this condition that remain asymptomatic. Other women with PCOS only develop mild symptoms, which can go undetected for a long time. In some cases, women with PCOS only realize there's a problem when they can't conceive a child or lose weight naturally.
According to the Cleveland Clinic, some of the signs and symptoms of PCOS can include:
Irregular or absent periods
Acne
Excessive growth of facial and body hair
Obesity
Difficulty losing weight
Dark skin patches, especially in the neck, groin, under the breasts, and around the groin
Skin tags in the armpits and/or neck
Thinning or patchy hair
Ovarian cysts
Fertility problems
How is PCOS diagnosed
The reality is that there isn't a specific test to diagnose PCOS. Unlike with other conditions, you can't get a single PCOS test that will return a positive or negative result and provide a final diagnosis.
In order to diagnose PCOS, a healthcare provider will analyze your personal and family history, perform a thorough physical examination, and order a series of lab tests to measure your hormone levels.
According to the NHS, a PCOS diagnosis requires that you meet at least two of these three criteria:
Irregular or infrequent periods
An ultrasound showing that you have ovarian cysts
A blood test that shows that you have excessive androgen or testosterone levels
The best PCOS home test options
As we mentioned above, there isn't a single specific PCOS test kit. However, these at home PCOS tests can help you monitor your condition by measuring your hormone levels. This information can be very helpful as you and your healthcare provider make treatment and lifestyle choices to keep your PCOS under control.
A PCOS testing kit can also include other tests, such as insulin and blood sugar levels. This is because over time, PCOS can result in insulin resistance and even diabetes. PCOS test kits can also include triglycerides and cholesterol in order to assess your risk of heart disease.
Let's go over some of our picks for PCOS at home tests from the best online providers.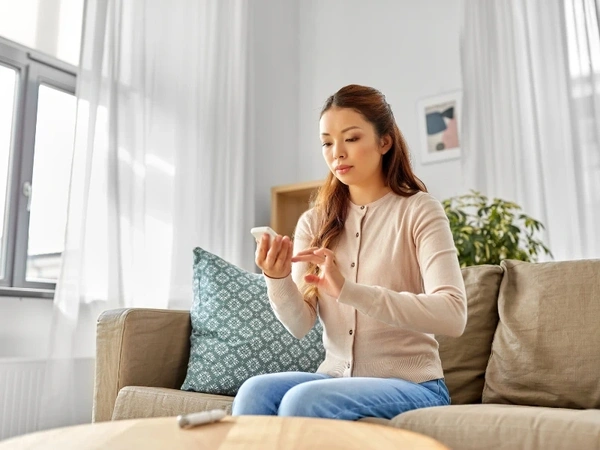 LetsGetChecked
LetsGetChecked is one of the few companies that lets you get a PCOS test at home. Their Home Test Kit for PCOS includes testosterone, sex hormone binding globulin (SHBG), free androgen index, LH, FSH, and cortisol.
Price range: $119 for the Home Test Kit for PCOS
Time for results: 2-5 days.
Pros: LetsGetChecked provides one of the few specific PCOS test kits in the market. This home test allows you to test for different hormones at once to thoroughly assess your condition. The company also provides guidance from their nursing team after your PCOS home test.
Cons: the test isn't available in NY, and you can't use your insurance to pay for this home test.
States availability: this test kit isn't available in the state of New York.
Collection method: this home test requires fingerprick blood and saliva samples.
Insurance coverage: LetsGetChecked doesn't accept insurance, but you can pay using FSA/HSA cards.
myLAB Box
myLAB Box doesn't offer a dedicated PCOS home test, but it does offer several test panels that can help you monitor PCOS. These include the At Home Women's Health + Fertility Test (cortisol, DHEA, estradiol, FSH, LH, progesterone, testosterone, TPO, TSH, T3, and T4) and the At Home Female Fertility Test (estradiol, FSH, LH, and testosterone).
Price range: $149 (At Home Female Fertility Test) to $199 (At Home Women's Health + Fertility Test)
Time for results: 2-5 days.
Pros: myLAB Box offers a free medical consultation if you have abnormal test results, and these home test kits allow you to test for numerous hormone levels at once. The company works with CDC-registered labs to ensure accurate results.
Cons: the tests are unavailable in NY, and they're not covered by insurance.
States availability: these tests aren't available in the state of New York.
Collection method: fingerprick and saliva samples.
Insurance coverage: this company doesn't accept insurance, but you can pay using FSA/HSA cards.
HealthTestingCenters
HealthTestingCenters offers two tests that can be used to keep an eye on PCOS: 17-hydroxyprogesterone and free testosterone.
Price range: $89 (free testosterone) to $259 (17-hydroxyprogesterone).
Time for results: 1-8 business days, depending on the test.
Pros: these tests are specific to certain hormones, allowing your healthcare provider to monitor your condition closely.
Cons: you can only measure two hormone levels through these home tests, and you'll still have to visit a walk-in lab for sample collection.
States availability: this provider doesn't offer tests in NY, NJ or RI.
Collection method: you have to visit a CLIA approved lab (LabCorp or Quest Diagnostics) to get your blood sample taken after paying for the test.
Insurance coverage: HealthTestingCenters tests must be paid directly, and they aren't covered by insurance.
Sources
Polycystic ovary syndrome - mayoclinic.org
Polycystic Ovary Syndrome (PCOS) - hopkinsmedicine.org
Polycystic Ovary Syndrome (PCOS) - my.clevelandclinic.org
Diagnosis Polycystic ovary syndrome - nhs.uk