The average age at which women give birth to their first child is rising. More and more women are choosing to have children when they're in their 30s or even 40s. Although this gives women more time to invest in their education and careers when they're young, it can also result in fertility issues for some women. 
If a woman is thinking of having kids, then she may want to get a sense of how many eggs she has left in her ovaries. A baby girl is born with all the eggs she'll ever have, and the stock is slowly depleted over her reproductive lifetime. This is known as an ovarian reserve test. This test may help women to plan their future families. Some women may choose to freeze their eggs for later use, while others may choose to time their attempts at pregnancy based on the results of an ovarian reserve test.
How can you get an ovarian reserve test? Can you do ovarian reserve testing at home?
How do at home fertility tests work?
An ovarian reserve test measures the levels of certain hormones, to get a sense for how many eggs a woman still has remaining. When you order an ovarian reserve testing kit to use at home, it will usually measure one of two hormones.
One way to check ovarian reserve is to measure the levels of a hormone called anti-mullerian hormone, or AMH. This is produced in follicles in the ovaries. Each follicle contains an egg, so the levels of AMH can give a sense of how many eggs are still left in the ovaries. Higher levels of AMH indicate that there are more eggs, while lower levels indicate that the number of eggs is decreasing.
Other tests measure the levels of a hormone known as follicle-stimulating hormone, or FSH. In a fertile woman, this hormone is involved in stimulating the egg to mature, and causing it to be released from the ovary. However, as a woman approaches menopause, her levels of estrogen go down, and her FSH levels start to rise. If a woman has a high level of FSH, this could be an indication that she's getting close to menopause. Tests like the popular Everlywell ovarian reserve test measure FSH levels. It's very important that the test be taken on the correct day of the menstrual cycle, because the levels of FSH normally vary throughout a woman's cycle.
How accurate are at home fertility tests?
Ovarian reserve testing at home is considered to be as accurate as getting the same tests in the traditional way, by going to a doctor's office and then visiting a lab to have blood drawn. If you choose a reputable home test kit provider, the samples from an ovarian test kit that you use at home are sent to the same laboratories for testing that the samples from your doctor's office are sent to.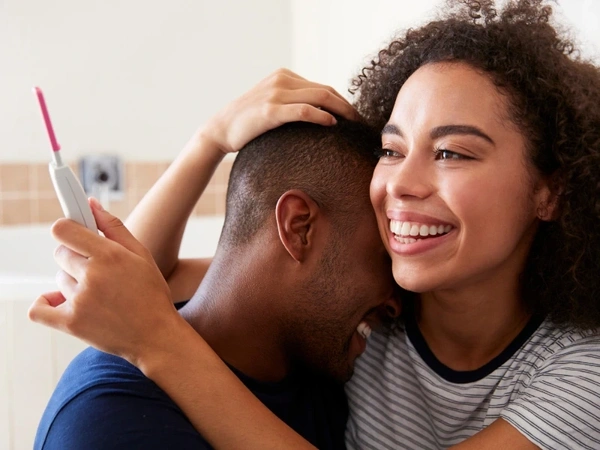 However, it's important to remember that taking just one blood test does have its limitations, and can't give you a complete picture of your overall fertility. If you take an ovarian reserve home test, and you get an abnormal result, then it's a good idea to schedule a visit at a fertility clinic. They can do a more comprehensive evaluation to learn more about your fertility, and can then talk with you about your options. 
Comparing ovarian reserve testing kit options
We normally recommend LetsGetChecked, MyLabBox, Priority STD, and Health Testing Centers. Priority STD doesn't offer fertility testing (only STD testing), but the other three options do offer ovarian reserve testing.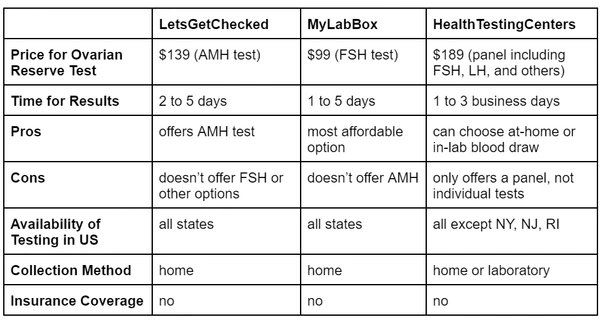 Sources
LetsGetChecked. https://www.letsgetchecked.com/. Accessed 27 Oct 2022.
myLAB Box. https://www.mylabbox.com/. Accessed 27 Oct 2022.
PrioritySTD. https://www.prioritystdtesting.com/. Accessed 27 Oct 2022.
Health Testing Centers. https://www.healthtestingcenters.com/. Accessed 27 Oct 2022.
Anti-Mullerian Hormone Test. Cleveland Clinic. https://my.clevelandclinic.org/health/diagnostics/22681-anti-mullerian-hormone-test. Accessed 27 Oct 2022.
Follicle-Stimulating Hormone (FSH) Levels Test. National Library of Medicine. https://medlineplus.gov/lab-tests/follicle-stimulating-hormone-fsh-levels-test/. Accessed 27 Oct 2022.
Mean Age of Mothers is on the Rise: United States, 2000–2014. Centers for Disease Control and Prevention (CDC). https://www.cdc.gov/nchs/products/databriefs/db232.htm. Accessed 27 Oct 2022.
The Normal Menstrual Cycle and the Control of Ovulation. National Library of Medicine. https://ncbi.nlm.nih.gov/books/NBK279054/. Accessed 27 Oct 2022.
Huang LN, Jun SH, et al. Predictors of in vitro fertilization outcomes in women with highest follicle-stimulating hormone levels ≥ 12 IU/L: a prospective cohort study. PLoS One. 2015 Apr 13;10(4):e0124789. doi: 10.1371/journal.pone.0124789.
Lin C, Jing M, et al. The Value of Anti-Müllerian Hormone in the Prediction of Spontaneous Pregnancy: A Systematic Review and Meta-Analysis. Front Endocrinol (Lausanne). 2021; 12: 695157. doi: 10.3389/fendo.2021.695157
Sherman BM, West JH, et al. The menopausal transition: analysis of LH, FSH, estradiol, and progesterone concentrations during menstrual cycles of older women. J Clin Endocrinol Metab. 1976 Apr;42(4):629-36. doi: 10.1210/jcem-42-4-629.