Micronutrients are substances that humans need to get through our diets, but only in small quantities. These include a variety of different vitamins and minerals. Micronutrients are important for the functioning of every cell in your body.
What's the best micronutrient test? How can you figure out which tests you need?
How can you know if you're getting enough micronutrients?
It can be difficult to know if you're getting enough micronutrients through your food. Some studies have shown that there's been a decline in the amount of certain nutrients in the US food supply. It's believed that this is related to modern farming practices, which breed fruits, vegetables, and grains that are large and are full of starch or sugar, rather than nutrients.
In addition, many people struggle to get enough healthy foods in their diets. In the busy modern world, it can be challenging to get enough fresh produce to meet your body's needs. It's also difficult to keep track of everything you eat to ensure that you're getting the right balance of foods.
To be sure that you're getting enough micronutrients, you can take blood tests to check your levels. This isn't available for all nutrients, because deficiency is very uncommon for some. For example, almost no one in the developed world is deficient in sodium, because it's found in common table salt. For others, like iron, vitamin D, and vitamin B12, deficiencies are more likely to occur.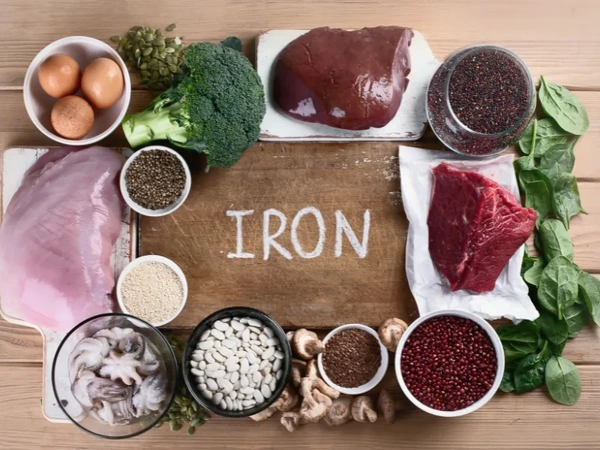 Should you take supplements without micronutrient testing?
Some people simply take supplements of certain nutrients and assume that this will take care of any problems. However, this isn't necessarily recommended. Although having low levels of micronutrients will cause health issues, having levels that are too high can actually cause problems too. If you take supplements without testing your levels, then you may end up causing more harm than good.
Can you do a micronutrient test at home?
You can visit your doctor and ask to get your micronutrient levels tested. However, doctors don't usually order these tests unless you have obvious symptoms of deficiency. Health insurance companies don't want to pay for this testing for everyone, since it's not cost-effective for them to do so. As a result, if you'd like to test your micronutrient levels, you'll usually need to pay for it yourself.
The most convenient option is to order an at home nutrient test. With home micronutrient testing, you'll get a testing kit mailed to your door, and will take a blood sample yourself using a fingerprick. You then mail this back to the lab, and get your results online in a few days. Another option is to order the test yourself, but go to a lab to have blood drawn. This may be preferred for people who don't like the idea of taking their own blood sample, and who live near enough to a lab for it to be convenient.
Comparing At-Home Micronutrient Testing Options
You have a variety of different options for an at-home micronutrient test. In general, the services that we most commonly recommend are LetsGetChecked, MyLabBox, PrioritySTD, and Health Testing Centers. Priority STD only offers STD testing and not nutrition testing, but the other three do have micronutrient testing options. For micronutrient testing, reviews indicate that most people are satisfied with the service of these companies.
The micronutrient testing cost will depend on which tests you choose. LetsGetChecked offers a micronutrient panel, which includes three vitamins and four minerals, for $179. This tests vitamin B12, vitamin D, vitamin E, copper, selenium, zinc, and magnesium.
For the other options, you'll have to choose which nutrients you'd like to test individually. MyLabBox only offers vitamin D testing, and Health Testing Centers requires a lab visit for all nutrient tests except vitamin D. If you're looking for a home test and don't want to have to go to a lab to have blood drawn, then LetsGetChecked is your best option.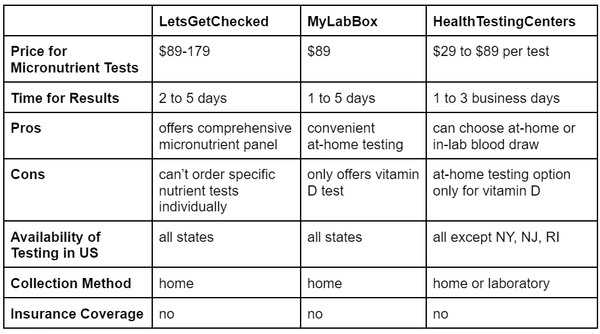 Sources
Davis DR, Epp MD. Changes in USDA food composition data for 43 garden crops, 1950 to 1999. J Am Coll Nutr. 2004 Dec;23(6):669-82. doi: 10.1080/07315724.2004.10719409.
LetsGetChecked. https://www.letsgetchecked.com/. Accessed 19 Oct 2022.
myLAB Box. https://www.mylabbox.com/. Accessed 19 Oct 2022.
PrioritySTD. https://www.prioritystdtesting.com/. Accessed 19 Oct 2022.
Health Testing Centers. https://www.healthtestingcenters.com/. Accessed 19 Oct 2022.
Pike V, Zlotkin S. Excess micronutrient intake: defining toxic effects and upper limits in vulnerable populations. Ann N Y Acad Sci. 2019 Jun;1446(1):21-43. doi: 10.1111/nyas.13993.
Micronutrient Facts. Centers for Disease Control and Prevention. https://www.cdc.gov/nutrition/micronutrient-malnutrition/micronutrients/index.html. Accessed 19 Oct 2022.
Nutrition – Guidelines and Recommendations. Centers for Disease Control and Prevention. https://www.cdc.gov/nutrition/strategies-guidelines/index.html. Accessed 19 Oct 2022.
Vitamins and Minerals. National Institutes of Health. https://www.nccih.nih.gov/health/vitamins-and-minerals. Accessed 19 Oct 2022.